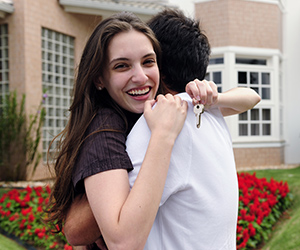 A Federal Housing Administration (FHA) mortgage loan, a federal government insured loan, offers a variety of benefits for prospective homeowners, especially first-time homebuyers and those with smaller down payments.
FHA loans are available in a variety of fixed-rate and adjustable-rate loan options and require less cash upfront (when compared to other types of mortgage loans) for a down payment. It is an available option for all income levels. Additionally, gifts are allowed as contributions for down payments and closing costs, either in part or for the entire portion of your down payment; long gone are the days when a 20% down payment is necessary.
Those with non­-perfect credit may benefit from an FHA loan because the qualification requirements are less stringent than other options such as a conventional mortgage loan. Even those that have undergone bankruptcy may still qualify for an FHA loan.
Sound too good to be true?
There are a few drawbacks. When selecting an FHA mortgage loan, the homeowner is typically responsible for carrying mortgage insurance on the home for the life of the loan. Mortgage insurance premiums come in two types of required forms—one that is paid in full upfront (or can be rolled into the financing of your mortgage loan) and one that is a monthly payment (calculated into your monthly mortgage payment). To qualify for an FHA loan, the home to be financed must meet certain conditions and is required to be appraised by an FHA-approved appraiser. Homes that do not meet the appropriate parameters may be denied financing.
To qualify for an FHA loan, a borrower must meet a number of requirements:
Steady employment history (or at least two years with the same employer)

A valid Social Security Number or maintain lawful residency in the U.S.

A down payment of at least 3.5% of the sales price—either available as a gift, grant, or from your personal cash assets

Completed a property appraisal from an FHA-approved appraiser
When purchasing a home, there are a number of loan options to choose from. Consider visiting with a mortgage loan professional to determine what loan type best fits your needs or apply online to prequalify for a loan with SWBC Mortgage.
Note: FHA loan limits differ from state to state. The list of requirements above may not be an exhaustive list.