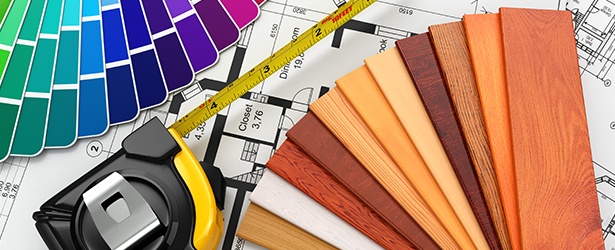 As many homeowners enter the seller's market, they're often swayed to pump money into their home in an effort to make the home more "appealing" to potential buyers. Often, sellers should weigh the benefits of doing so—no one wants to put more money into a project than what they ultimately can get out of it. If you have any intentions of selling your home in the next few years and are wondering if a remodeling project will be a boom or a bust for your wallet when that sales contract finally comes in, we have compiled a list of a few upgrades that homeowners falsely think add monetary value to the price of their home:
1. Swimming pools
The installation of in-ground swimming pools typically costs around $22,000, according to home improvement site, Fixr. Although a great place to cool off in hot summer months, or gather around with friends and family, a swimming pool can be seen as a danger or a hassle to some potential homebuyers. Many purchasers fear potential lawsuits in the event an accident were to occur on their property; annual upkeep costs can be expensive, and let's not forget to mention the additional property insurance a homeowner with a pool is required to obtain. Ultimately, families with small children may altogether avoid looking at a home with a swimming pool because of potential drowning dangers. Limiting the "pool" (no pun intended) of potential buyers is never advisable in any real estate market, and you may find it necessary to discount more than the cost you paid for the pool just to get more potential buyers to view your home.
2. High-end finishes
Naturally, one would think that if you were to change out features of your home, then only the best will do, and considering your own impeccable taste, every person who views your home will go nuts over your style selections, right?! On the contrary, homeowners should really refrain from the imported Italian marble tile for the entryway or the lime green kitchen cabinets. Any upgrades or updates to your home should be consistent with the rest of the home in terms of style and quality. That isn't to say that a home with composite board cabinets in the kitchen doesn't deserve a face lift. Just remember to keep the updates reasonable to avoid losing excessive amounts of money.
Additionally, some updates that are highly valuable to you, like converting the bonus room over the garage to a BOSE-laden media room, may not appeal to a family with young children who would prefer to use the space as a playroom. If you are making a change to your home for your future comfort, personalize away, but if you are updating to increase the appeal of your home for sale, keep it in line with the rest of your home and keep your updates relatively generic.
You might also be interested in: Quarterly and Bi-Annual Tasks to Keep Your Home in Tip-Top Shape
3. Overhauling the architectural style
In the past, the American dream was to keep up with—and then surpass—the Joneses. In the competitive real estate markets of today, however, having the largest and most ornate home on the block is not the ideal situation. Before having a contractor come in to add a second story, or completely changing the front facade of your home, consider the looks of other homes in your neighborhood and what they are selling for. In a neighborhood full of single-story ranch homes that are selling for $200,000, your newly remodeled, now two-story, contemporary home is going to be hard to sell for $350,000.
4. Brand new carpet
Nothing turns a buyer away quicker than walking into a home with stained, worn, or smelly carpeting. However, if your home currently has wall-to-wall carpeting, don't jump up to replace it just yet. The allergy and eco-conscious buyer of today is well aware of the health issues caused by the dander and dust that carpet holds, along with the dangerous chemicals that are often used to produce and clean carpet. Also, the cost of the carpet itself and installation most likely won't be recouped, assuming the potential homebuyer even agrees with your color and style choice in carpet. If the carpet must be replaced, opt for a laminate hardwood or restore original wood flooring. If neither of those options appeals, consider offering a flooring allowance with the sale of your home.
5. Converting the garage into a bedroom
Even though creating more interior space for an extra bedroom or an elaborate dream closet might seem like something everyone would like to have added to their house, the conversion might not be as successful and cost effective as you think. Many people will quickly bypass a home without a functioning garage. If someone wants to convert a garage, we suggest investing in having a detached garage built, if space is available. Even though this may not significantly increase the selling value, it provides buyers with an option for vehicle parking.
6. Behind-the-scenes updates
Among the list of common upgrades that don't necessarily improve the visual aesthetic of your home, but make it a better place to live, are HVAC replacements, water softeners or plumbing improvements, and additional insulation. Considering these upgrades are not really seen by a buyer, and the only way to feel their usefulness is to live in the home, the price you forked over for this equipment will most likely be of no concern to a homebuyer. Additionally, many of these upgrades can be thrown into the common home maintenance category and will be considered necessary to being a responsible homeowner.
When doing upgrades and updates to your home, the best adage to consider is "different strokes for different folks." No matter how much value you think a change to your home is worth, there is a homebuyer out there that would (and will) disagree.
If you are considering putting your home up for sale, keep updates simple, small, and necessary. Never expect to get a dollar-for-dollar return on anything you've paid for—instead, look more toward the perceived value, rather than the monetary. Minor replacement projects like garage doors, entry doors, and new siding will yield a greater ROI than a brand new room addition to. After all, the true market value of your home isn't based on how much you paid for upgrades and improvements—or even what your real estate agent gets from weighing comparable properties. The only accurate market value of your home is the price the buyer pays for it.
Please consult a REALTOR® for real estate-related questions.