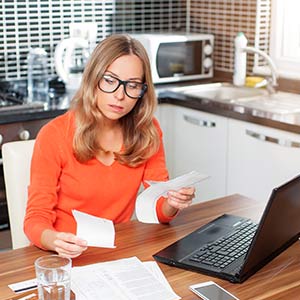 Photo by Kudla | Shutterstock
In less than a month, I'm turning the big 3-0. I have always believed that age really is just a number, so naturally, I don't have any particular anxiety or fear about hitting this birthday milestone. (Okay, let me rephrase that—I'm really trying not to have any angst about it.) What I do have though, is a better picture of what I want my financial future to look like.
The generation before mine typically had homes, solid jobs, and families of their own by the time they were 30. They were very much "adults" so to speak. My generation's experience is a bit more diverse. We're delaying marriage and taking more time to explore our career path. That's okay—for me personally, it just means I'm making sure I'm where I want to be before considering life's possibilities. Luckily, I have reached a point in my career where I can re-examine my finances and plan ahead for whichever path I choose. And, it just so happens I'm turning 30.

If you're already a 30-something, or soon to be like me, here's some advice I'm offering (and hopefully taking) about smart money moves to make in this significant decade.
1. Pay Down Debt
Your 20s can often be a time where debt accumulates faster than you can say, "I'm changing my major." For today's 20-somethings, it almost seems like a financial rite of passage to rack up student loan and credit card debt. But, it can be tough trying to pay it down if you're working an entry-level job and trying to find your place in the workforce.
According to Forbes, student loan delinquencies continue to rise, despite more options to make payments and not allow the loans to become delinquent. If you're at a point where your salary is up, and you don't have a huge load of responsibilities yet, pay down as much of your debt as you can. The more you chip away at it, the more you'll have to contribute to future goals. Which leads us to the next topic...
2. Prioritize and Plan
If you're like me, you might be asking yourself, "What do I want my life to be like?" Your 30s are a perfect time to get started on your dreams and goals.
Whether you'd like to be a homeowner, save for your children's college fund, or travel the world when you retire, it's time to get real about your game plan. I'm more self-aware than I was at 25—and making more money—which is the perfect pairing for a plan of action. I'm taking a closer look at my budget and determining how I need to better align it with my goals. For a lot of us, a financial adviser can help with this. If you're interested in finding one that can help you attain your financial goals, make sure you know what characteristics to look for first.
3. Start an Emergency Fund
If you have already established an emergency fund, pat yourself on the back—but not before you make sure you have at least six months of your net income stashed away. Friends well into their 30s have told me that this time of life can be riddled with big change—personally and professionally—and having a cash reserve can be a nice cushion for unexpected expenses.
While it's pivotal to establish long-term accounts, your plans should include the short-term, too, to prepare you for what life may bring at a moment's notice. You can't really tell when sick children, pet health emergencies, and car repairs are going to pop up, but you can be financially prepared when they do.
4. Re-evaluate Insurance
Not only do your 30s bring more assets into the equation, they may also bring a family that depends on you for financial support, too. It's unpleasant to think about, but should the unexpected happen, you'll want to make sure your loved ones have the protection they need. Now is the ideal time to lock in lower life insurance rates while you still can—it costs less than you think.
You should also make it a habit to review your existing auto, health, and renters or homeowners insurance to ensure you have the best coverage for your phase of life.
5. Get Real About Retirement
The reality of having to support myself after I'm done working is closer than it's ever been. For those of you who don't have any type of retirement account—a company sponsored 401(k) or an individual retirement account (IRA)— put that at the top of your list today. If you're fortunate enough to have an employer who offers to match a percentage of contributions, you should be taking full advantage of that. If you don't, you're leaving money on the table. As you receive raises or move to higher paying jobs, increase your contributions. The more you can put aside now while you're in your prime, the more secure your golden years will be.
There's not one single path or experience that defines today's 30-something—they are much more unique than those of yesteryear. Just remember: your 30s should be a time where you're comfortable with yourself (whatever that self is) and setting up a solid financial foundation for the next decade of your life.
Are you a 30-something or turning 30 soon? Share your experiences, goals, and financial advice in the comments below.