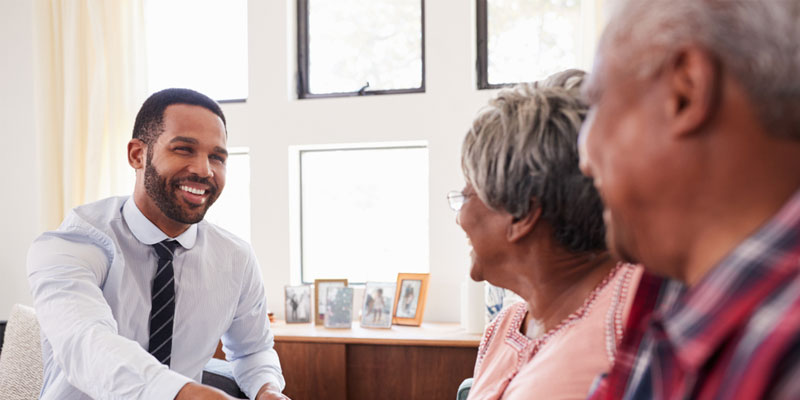 While not a subject we like to talk about, we all will die at some point, and we must plan accordingly. With regard to our finances, that planning means finding a wealth advisor who works for your entire family, so that when one spouse dies, the widow/widower and remaining family members know where they stand and are still on track to reach the family's financial goals. Since women generally outlive men, it's more often women who are left behind to pay bills, make decisions about the estate, and withdraw from retirement investments. Unfortunately, men still make most household financial decisions while both partners are living, and women often see no reason to focus on financial matters or meet with the wealth advisor if they trust all is going according to plan. Therefore, women can be ill prepared to take over the finances when widowed or divorced, and they often don't feel any trust in or relationship with the family wealth advisor. That leaves them with nobody to help protect the family's money going forward.
Finding a wealth advisor your whole family can trust is important. Regardless of which spouse is left behind, financial scams targeting the elderly are on the rise. According to the National Institutes of Health, one out of 18 "cognitively intact" senior citizens falls prey to a financial scam every year. Seniors with dementia are even easier targets, of course. If both you and your spouse build a relationship with a wealth advisor you trust, you'll have invaluable help protecting your funds, staying on track, and thwarting would-be scammers.
What to Expect from Your Wealth Advisor
Since you know that both spouses must be knowledgeable about household finances and involved in financial decisions, you should establish a relationship with a wealth advisor who makes an active effort to include both of you. Here's what to expect from the advisor you choose:
Your advisor should meet with both of you at least yearly.

At your first meeting, your advisor should ask about your levels of financial knowledge and comfort with investing terms, then explain and define terms as appropriate.

Your advisor should open all accounts and make all investments in both of your names, unless there is a strategic financial reason to separate accounts.

Your advisor should ensure that all investment statements and correspondence related to your accounts are in both your names and sent to both of you.

Both of you should have access to all documents, investments, passwords, and other financial information at all times.

Your wealth advisor should ensure both of you are listed as beneficiaries on pensions, investments, and life insurance policies.

Your wealth advisor should oversee other financial experts as needed, such as an accountant, attorney, insurance agent, and business planner.

You must feel comfortable trusting your advisor to protect your accounts and direct your funds toward meeting your goals.
How Your Wealth Advisor Can Provide Education
Once you've established a relationship with a wealth advisor you trust and feel comfortable with, that wealth advisor should offer education to ensure both of you are financially knowledgeable and able to make educated decisions regarding your estate. To that end, your wealth advisor should provide financial wellness and investment coaching on subjects like these:
Managing and eliminating debt

Overseeing and abiding by a monthly household budget

Understanding stocks, bonds, and other investment options

Investing for retirement and other goals

Paying for children's college expenses

Overcoming income reduction after a spouse's death

Withdrawing from retirement accounts and pensions

Estate planning and division
When selecting a wealth advisor, remember that the advisor should work for your whole family. You should be able to rely on your advisor to educate you and your spouse in financial matters and position you to reach your goals and understand what's required to oversee your estate alone when one of you passes on.
To find an advisor you and your family can trust, click here to meet our team.