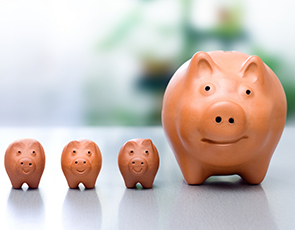 It's inevitable. Stuff happens—some planned, some not. When the unforeseen happens—because it will happen—you should take comfort in knowing that you have set aside an emergency fund for such situations. Don't have an emergency fund built yet? Now's the time to consider building one.
Keep in mind that when you begin to establish your emergency savings fund, you should treat it as a no-touch-unless-extreme-circumstances-occur-account. That is, establish these emergency funds to pay for true emergencies—not new car tires, not an extravagant vacation, and definitely not for any "extra" luxuries. For emergencies only.
In a recent survey conducted by Bankrate, it's reported that 27% of Americans have no emergency funds to turn to in the event of an emergency, and as many as 75% of them don't have an emergency fund to sustain their lifestyle for longer than six months.
The size of a suggested emergency fund fluctuates for everyone; no two people/families live their life the same. However, there are some rule-of-thumb suggestions on where you should set your sights when you begin to begin build your fund. Two-income households should begin by saving three to six months of an emergency fund to begin. If you are a single wage earner, meaning you're the only working family member in the household or you're single, strive for six to twelve months of emergency dough.
Now, the million-dollar question: would you be able to provide a confident answer when asked how much your living expenses calculated to on a monthly basis? Some consumers have no idea the amount of living expenses—the amount needed to pay bills and to cover basic necessities—they would need to live comfortably for one month. If you're among the group that may have never calculated your actual living expenses, you should take some time to do so.
It's also wise to create an additional savings account to begin saving for your emergency fund, completely separate from your traditional savings account. Creating an additional account can help you to differentiate your monies from your everyday savings account and from your no-touch-unless-extreme-circumstances-occur-account. Some experts also suggest keeping your emergency funds in a reputable online-only account, making the funds a little more difficult to access to deter those spontaneous money withdrawal visits, but not too difficult to access when you need it. And, since you never know when a mini emergency may arise, when time is of the essence and there's little time for a trip to the bank, experts suggest keeping a small amount of cash reserve on hand in a fire-proof safe.
When you've started saving, set small goals and celebrate quick successes. For example, set a monetary goal for yourself, create "checkpoints" along the way to track your progress, and then reward yourself when you've accomplished significant milestones in your savings exercise—whether that be your first $1,000 or when you've reached 85% of your goal.
The bottom line when we're discussing an emergency fund is to start somewhere. Something is better than nothing, and committing yourself earlier, rather than later, may save you a ton of heartache for an unforeseen, unfortunate event. Discipline yourself to designate the fund for emergencies only. Should the need arise for an emergency fund, you'll be happy that you started early.
To find out how much you should save, download our expense calculator!