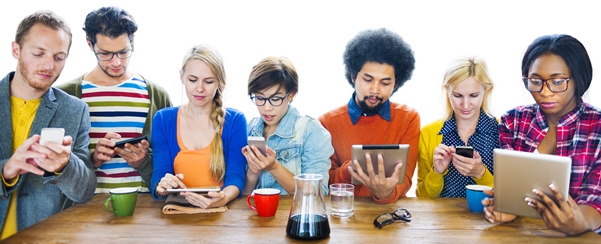 Every generation has been faced with their own set of challenges when transitioning into adulthood. Today, millennials across the nation are battling the constant struggle of budgeting—outstanding student loan debt and finding employment immediately out of school. When it comes down to it, who has the time to worry about creating and sticking to a budget?
Luckily, this generation is equipped with something the other generations were not equipped with—smartphones! These little gadgets, AKA "Life Savers," not only connect us to the world, but they connect us to our finances within seconds. So, if you're finally ready to begin to save more and find your way out of debt, then today may be your lucky day. Whether you're a recent graduate or a few years into your career, with a few taps of your thumb, your new financial journey awaits you.
The Truth about Millennials
In order to provide suggested financial solutions, we must first understand our younger peers and their culture. Millennials have a very different relationship with money, and new studies show that items once considered as a luxury purchase are now expected to basic expenses. To keep up with the social standards, millennials are willing to prioritize these types of expenses over often-necessary and reoccurring bills—just to keep up with their peers. In turn, more than 25% of millennials submit late payments or are dealing with bill collectors, thus influencing credit scores, interest rates, and most of all, their ability to save.
While the previous statistic may seem alarming, it should be noted that the millennial generation fully understands and appreciates the need for financial education and security. In a recent study, 70% of millennials state financial security as their top goal and roughly 63% of millennials started saving for retirement before the age of 25.
Financial education has changed, and the tools used to manage it are constantly advancing, essentially making it "easier" to progress toward a common goal. Millennials are more connected than ever with 77% of adult millennials owning a smartphone and spending, on average, 14.5 hours a week texting or on social media. Millennials are more connected than any generation before them.
The Power of Technology
In order to remain relevant to a target audience that spends a great deal of their time immersed in technology, it's absolutely essential that they're marketed to and communicated with in a space they're already occupying—online.
Knowing millennials fully understand the need for financial security, and knowing their technology-use habits, we can begin to utilize the number of amazing tools these never-leave-home-without-it devices, smartphones, bring us.
The power of any budgeting exercise is bringing to light your expenditures and comparing that to your income. Luckily for us, the prevalence of technology has given us plenty of methods to do that. With a few thumb taps, you can safely and securely link your personal accounts to an app, allowing it to detect your income, bills, how much someone has left to spend. Over time, you are able to track recurring transactions, like those to your favorite restaurant, clothing store, or happy hour stop.
While each app varies in user experience, the overall concept of each is to make organization more convenient. Below you will find some of the most popular apps used:
Within minutes, you can easily setup and access a general overview or a detailed analysis (depending on what app you download) of your finances. For many people, this is a very big and important step in the process of creating a budget. For millennials who are already regularly checking their Facebook, Twitter, and Instagram, using a user-friendly budgeting app should be a piece of cake! These apps are not intended to be used as the end-all for a budgeting solution, but rather as a financial tool to help you create a strong personal financial foundation that will lead to future, sustained financial success. Happy budgeting!