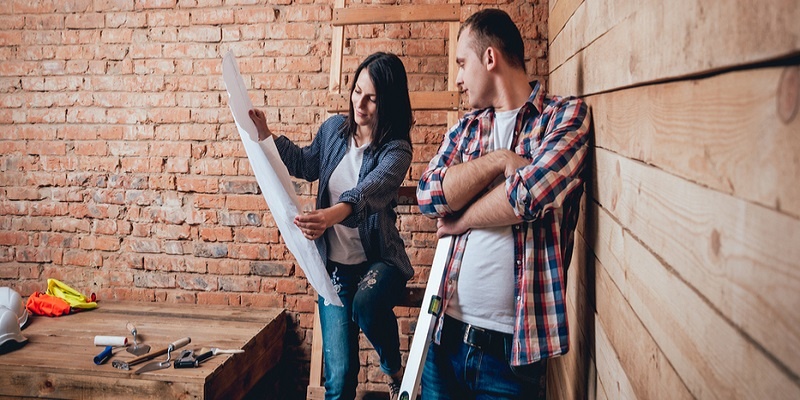 Have you ever seen a before and after picture of a home renovation and thought to yourself, "I could do that?" Well, you're not alone!
The amount of money Americans spend on home renovations continues to increase year after year, making the home renovation industry a billion-dollar industry.
A home renovation of any size can be exhausting, but the results are usually worth the work. Whether you're renovating a house to sell for profit or simply making updates to your current home, there are many steps in the process that—if overlooked—can end up hurting your project. However, if you take the time to create a proper plan, you'll save time, stress, and money!
Check out these five steps to help your project move along a little easier:
1. Don't Hire the Cheapest Contractor
Experts recommend bringing in three to four contractors and getting estimates from each one. While it's tempting to go with the cheapest contractor, don't let that be your sole hiring factor. With plenty of contractors available for work, it's safe to say there are many who will quote a low bid to secure a job, but might be inexperienced or provide low-quality work.
Be sure to also ask for contractor recommendations from your neighbors and friends to find out if customers are happy with the finished product.
2. Set a Budget—But Allow for Flexibility
It's always safe and smart to have money in your budget set aside for unexpected costs that can arise during a renovation. Unforeseen issues like dry rot, a bad roof, etc., can cause a hit to your budget and possibly bring your progress to a halt.
A good rule of thumb is to set aside 10-15% more money than your renovation estimate in a contingency fund. If you come across any issues, you'll be prepared; if you don't have any surprises, you now have some extra cash back in your pocket!
Related reading: 7 Ways to Save on Your Home Remodel
3. Communicate with Everyone Involved
In order to avoid design mistakes, budget overruns, or time delays, communication with your contractor and their team is crucial. Depending on the size of your renovation, the stress of making a ton of big and small decisions will become overwhelming and confusing.
Maintaining that open line of communication and understanding with your contractor will lessen the stress and make for a smoother project.
4. Make Realistic Design Choices
Browsing for materials like flooring, tile, and countertops is an exciting and creative moment when putting together the details of your home. With thousands of options to choose from, you can count on finding items you truly love that fit within your budget. When picking out these items, it's essential to consider the daily wear and tear these materials will face.
For example, hardwood floors are beautiful, but they're not practical for everyone. Pets and young children can cause scratches and damage to a hardwood floor, prompting a replacement within a few years. For a more active family, laminate wood floors would be the better choice. They look exactly like wood and are a lot more durable, plus laminate is typically less expensive than traditional hardwood. Weighing the pros and cons of selecting certain materials for your home can save you valuable money in the long run.
5. Use a Separate Bank Account for Your Budget
Many professionals recommend homeowners have a separate bank account for their renovation money. This allows you to stay organized and makes it easier to track spending. You'll save plenty of time by not having to comb through Target and fast food runs to find your renovation transactions!
If you do have a separate account for your renovation, it's still important to keep all of your physical receipts. This will assist you when it comes time to calculate the market value of your home.
From whole house remodels to a single bathroom or kitchen, there's no better feeling than walking through a completed project! Now that you've read up on a few essential recommendations for your renovation project, it's time to get started. Remember to incorporate these helpful tips into your project plan for a successful outcome!
Related Categories