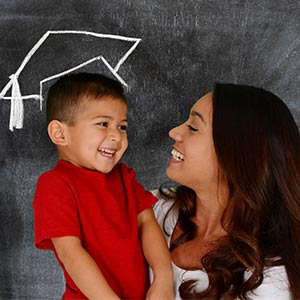 The cost of college has increased steadily for decades. According to the College Board's Trends in College Pricing 2014, the inflation-adjusted average published price for in-state students at a public four-year university is 42% higher than it was 10 years ago and more than twice as high as it was 20 years ago. With the average cost of in-state tuition, fees, and room and board reaching $18,943 per year, the idea of many families sending their children to college can be daunting.
Fortunately, the rise in tuition prices has flat-lined over the past few years, increasing less than 1% in 2013–2014 and 2014–2015. While there is no denying that a college education is a significant monetary investment, some would argue that it is a priceless investment that could help secure a better future for your children. Those of us that were lucky enough to graduate college with student loan debt (sarcasm) can tell you first hand how powerful a college fund can be to your child's future. There are many benefits of contributing to a college savings plan for your children—both financial and non-monetary:
Tax Benefits
There are many tax benefits to contributing to a college savings plan. For example, a 529 plan allows you to tuck tax-deferred money away for college expenses, and withdrawals used for college-related expenses are also tax-free. Essentially, any interest earned on your investment grows tax free! In addition, many states allow a deduction from or credit against state taxes for all or part of the contributions, so if you live in a state that requires state income taxes, you could get an additional deduction. These 529 plans do not require you to file an IRS gift tax return—a big money saver.
Flexibility
Most college savings plans are flexible in terms of contribution limits, withdrawals, qualified expenses, and even account setup. A 529 plan allows you to save up to $13,000 per year, with some states having no contribution limit. In addition, they give you complete control of how and when the assets are used. In other words, Junior can't withdraw the money on his own to go to Cancun for Spring Break. A 529 plan also offers flexibility in naming beneficiaries. That means, if one of your children decides to opt-out of college, you can make another child the beneficiary, or even roll the funds into another account for the same beneficiary, tax-free. There are no income limitations or age restrictions, so you have the flexibility to start a 529 plan regardless of your child's age or your income. To research your state's 529 plan details, click here.
Convenience
Account set-up for most college savings plans is easy and convenient. A 529 plan can easily be funded with an automatic direct deposit from your paycheck, and you determine how much and how often you want to invest. In addition, if you change jobs, your account stays with you, with no rollover required. Plan maintenance is also easy and convenient. You just make your contributions and the ongoing maintenance and investment of the account is handled by the plan. Plan assets are professionally managed either by the state treasurer's office or by an outside investment company hired as the program manager.
Peace of Mind
One of the greatest benefits to investing in a college savings plan is the peace of mind it can afford you that you are taking steps to secure your children's future education. Even if you're only able to save a portion of the amount needed to fund your child's education, any amount of money not borrowed in student loans is saving your children money in their future adult lives in student loan payments and interest. Imagine your child graduating from college debt free. With some careful planning and commitment, you can make this dream a reality.
The important thing to remember is that the sooner you start saving, the better. Whichever college savings plan you choose, time and compound interest are your friend. Save early, save often, and you and your children could experience the benefits of your savvy financial planning.
Click here to access our college funding calculator to help you determine what your child's future needs could be.