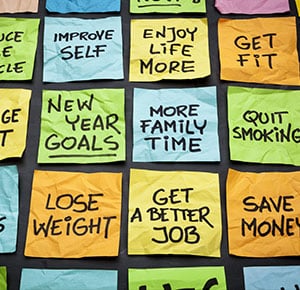 It's been more than 30 days since we welcomed 2015 with celebrations, a day off from work, and anticipation. For many of us, it's also been more than a month since we made those proverbial resolutions such as losing weight, learning something new, or saving more money.
Sadly, statistics have shown that very few will actually be successful in reaching those goals. When it comes to setting financial goals, they shouldn't be taken lightly—it's your future you're dealing with. If you've already placed them on the backburner, don't throw in the towel just yet.
You can set yourself up for financial success by reevaluating your resolutions and following these tips:
1. Abandon Ambiguity
First and foremost, ambiguity isn't exactly productive when it comes goal setting. Especially for financial resolutions, setting benchmarks and measurable objectives is key. Include a dollar amount and a deadline. If you've set out to save more money, it's time to get clear about where you'll be saving and how much. A great place to start is retirement planning. For example, saving $100 per month in your 401(k) is much more conducive than just saying, "I want to save more." Or, you could start with meeting any employer-match if you haven't done so. If you'd like to spend less money, begin by reviewing last year's total spending and find the areas where you overspent. Then, find specific ways to cut back in those categories and put a dollar amount on it.
For help, read this blog post: Frugal Living: 7 Easy Money Saving Tips
2. Get Realistic About Debt
If debt was at the top of your list this year, you're not alone. One mistake people often make is setting unrealistic expectations about paying down their debts. Examine your current financial situation and make sure that it's aligned with your goal. In other words, don't resolve to use 25% of your income to pay off an exorbitant amount of debt if you're barely making ends meet. That's not realistic or attainable. Instead, set a modest, shorter goal that will keep you motivated to the bigger end game. Shorter goals usually have more potential to be a success story.
3. Automate
Much like how company sponsored 401(k) contributions are automated, following suit for other financial resolutions is beneficial. Whether it's a credit card bill or a new savings account you set up, automating the transactions makes it that much easier to attain your goal. You're less likely to be tempted to skip out on your promise.
4. Focus and Prioritize
It's easy to make a laundry list of New Year's resolutions while getting caught up in all of the festivities. The problem with that is, the longer your list, the more difficult it will be to truly focus on your goals. Avoid crashing and burning by picking the three most important goals on your list. Remember, you can always add more resolutions as you progress or check one off your list.
5. Forgive Yourself
Everybody makes mistakes. It's how we learn and grow. Instead of beating yourself up over a setback, forgive yourself and pause to reflect on what you've learned. It's easier to move forward when you're not dwelling on what you didn't do. Accept your mistake, idntify the challenges, and keep trying.
Don't be a New Year's resolution statistic. With a little dedication and patience, you can make this the year you accomplish your financial goal.