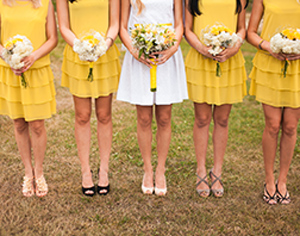 For some ladies, a wedding is something they dream about their entire lives. They have envisioned the dress, the flowers and everything in between. They may start saving for the special day the moment they receive their first pay check; for them, the sky is the limit.
For others who haven't saved or don't have family/friends helping them out, they're excited for the day but dread the cost. That's no surprise since, according to The Knot's 2013 Real Weddings study, the cost of an average U.S. wedding can exceed $29,000. The issue with wedding planning is that while you may have a specific budget in mind, things can add up quickly, making it difficult to stick to the original budget. Here are a few tips to get you to through your special day without breaking the bank.
Keep an open mind when shopping (i.e., your wedding dress)

One of the most difficult challenges in sticking to your wedding budget presents itself when you're shopping for a dress. For example, my future mother-in-law bought hers at the bargain price of $20 from a department store. While prices have significantly increased, it doesn't mean you can't stick to a budget.

The important thing to remember when factoring the dress into your budget include the cost of accessories; shoes, jewelry, headpiece, and miscellaneous items can quickly add up. Maybe you have your heart set on a designer ball gown but have discovered that those selections are at the higher end (or entirely out) of your budget. Be open-minded about the type of dresses you try on, visit trunk shows, and research charity events such as Brides Against Breast Cancer. You might find something even better than you ever could've dreamed. Remember to also reserve a portion of the budget for the cost of alterations; some places can charge as much as half the price of your dress!

Review contracts in detail (i.e., band)

As with any contract, be sure to read it in its entirety. Take, for instance, the contract I signed. A five-hour time lot may not always mean what you think it means. While the band wasn't allocating additional time for set-up/tear-down, it was included in the five-hour period that I assumed was "play" time. Then, session breaks should be taken into consideration; for each 45-minute set of music, the band is entitled to a 15-minute break. Essentially, for four hours of "play" time, the band is entitled, by contract, to a cumulative one-hour break; that's another hour of "play" time that has been cut after taking into consideration set-up/tear-down and breaks. Your five-hour time lot has now become three hours.

Luckily for me, the band realized the lack of communication and agreed to accommodate us and everything worked out in the end. However, you might not be so lucky so be cautious of binding contracts that you're signing.

Figure ways to cut costs (i.e., food, decorations, etc.)

I think you'll agree with me when I say that a large portion of the wedding bill is put toward catering. When looking for a caterer, it is imperative that you shop around—not only for a good price but also for good food. One way to cut the cost of your food bill is to cut down your guest list. If you haven't spoken to someone in the last year, evaluate their position in your life and determine if you can live without having them to share in your special day. If you can, cross them off the list.

Consider the savings you might reap by scaling back on your floral arrangements. Floral centerpieces can be costly, especially when ordering large pieces. Instead of ordering large bouquets for all tables, consider having a variety of centerpieces to include medium-sized or smaller bouquets—it's less expensive and makes for a great ambience.

Other areas you can cut costs are non-essential items such as: table linens, chair covers, and charger plates. Sometimes a set of chair covers can cost more than the table covers themselves! Add an overlay and nice charger plates to that and you've quickly tacked on some big bucks to the invoice. Consider quantity over quality, and don't spend too much time making your guests comfortable at their table because at the end of the night, nobody is going to remember the exact details of table decorations (hopefully, because they were having too much fun on the dance floor).

Consider purchasing event insurance

No matter how big or small your wedding, one thing is certain, your wedding will cost money. The smartest thing you can do to ensure peace of mind is to budget for wedding insurance. Considering you'll have spent several thousands of dollars planning your perfect day, the cost of event insurance is minimal.

Depending on what coverage you purchase, wedding insurance can cover certain deposits due to a necessary cancellation or postponement. For instance, if the venue goes out of business or a sudden illness or being unexpectedly called to duty prevents immediate family members from attending, you could be eligible for a reimbursement.
The cost of a wedding isn't something to take lightly. Considering the best vendors are booked months in advance, the sooner you can start planning, the better. Getting referrals from friends and family also helps take a load off. Here's a wedding budget calculator to to help you out as well.
Whatever you do, don't let the stress of wedding planning or budgeting get the best of you.
Need event insurance? Call an agent at 800-499-7922 if you're located in Texas or 866-913-5180 for all other states.