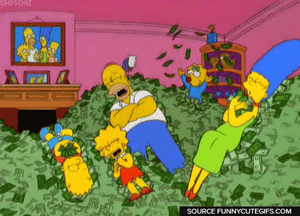 April is lining up to be a critical month in determining how the rest of 2016 goes in global financial markets. In normal times, a critical month would be defined as one chock full of economic data comprised of meaty things like global employment, productivity, manufacturing output, demand for commodities, business investment, global shipping indices, consumer spending, and savings.
A whole host of unanswered questions would hopefully be answered in order to point us toward where asset prices were headed. Meanwhile, as a derivative to economic activity, we would get an idea of what the world's major central banks might do, if anything at all.
Now; however, the order of everything I mentioned above is in reverse. We know that outside of the U.S., global economic output data will stink, usage of economic resources (including labor) will be tepid, and business investment and consumer spending will be subpar. It seems the only way these different measures can surprise us is if they end up weaker than expected. Think about it: it's likely been some time since any data from Europe, Asia, or Latin America made you say, "Wow, that was strong! Maybe the worm is finally turning." If you can't remember, don't worry, your mind isn't slipping. It really has been that long of a time!
These days, only two questions really matter:
What are the major central banks of the world going to do in the way of further monetary stimulus?

What will oil-producing nations say and do with regard to addressing their supply problem?
That's it. The end.
Even in the U.S., despite fairly decent economic growth, the financial markets are still hooked on every utterance coming out of the Federal Reserve (Fed). The Fed seems to be having some sadistic fun watching the markets swing back and forth as their opinion changes every other day. Two weeks ago, after guiding the markets into believing that the Federal Open Market Committee (FOMC) statement was going to prepare the markets for a rate hike in April or June, the FOMC issued a surprisingly dovish statement that focused more on the tightening financial conditions coming from overseas.
Then, last week, a herd of Fed governors took to the airwaves with hawkish statements, some pointing to a hike in April. Then, yesterday morning, we have this from San Francisco Fed Governor, John Williams, "The real issue is the global financial and economic developments. There's uncertainty about what's happening around the world and how that feeds back to the dollar and the U.S. economy. We understand that we're in a global economy so what happens in Brazil or China has a huge impact on the U.S. in terms of our inflation and employment goals."
Back to dovish! The craziest thing is, these aren't different Fed governors articulating opposing views. Rather, like in the case of President Williams, these are the same Fed governors saying completely different things from one on-air appearance to the next. Perhaps, this is some psych-operation plan being launched by the Fed. To ween the markets off depending on their every word, they will produce lots and lots of words, changing their meaning and tone every other day until the markets stop trying to interpret them. Not a bad idea, but I don't think that is it.
So, April is a big month considering the new paradigm. The European Central Bank (ECB) meets April 21; The Fed meets April 27; and the Bank of Japan (BOJ) meets April 28. I think that while the ECB and BOJ will not add to their respective stimulus at these meetings, they will strongly point to more stimulus in June.
Additionally, the big OPEC-Non OPEC (Russia) meeting happens in Doha on April 16. This is the meeting the oil markets have pinned all their hopes on -- that OPEC and Russia will freeze their production at current levels (which happen to be at historic highs). The pronouncements and subsequent denials leading up to and then through this meeting, if it actually happens, should be pretty comical and will probably end in tears for crude prices.
With regard to market positioning, I continue to believe in the dovish Fed, as opposed to the hawkish Fed. Global economic weakness and massive monetary stimulus programs will keep the U.S. Dollar and the longer end of our Treasury curve well bid. I like owning the 10-year when it moves to the low to mid 1.90s, and the five-year and seven-year at their current levels of 1.38% and 1.68%, respectively.
Member SIPC & FINRA. Advisory services offered through SWBC Investment Company, a Registered Investment Advisor.
- Not for redistribution -
SWBC may from time to time publish content in this blog and/or on this site that has been created by affiliated or unaffiliated contributors. These contributors may include SWBC employees, other financial advisors, third-party authors who are paid a fee by SWBC, or other parties. The content of such posts does not necessarily represent the actual views or opinions of SWBC or any of its officers, directors, or employees. The opinions expressed by guest bloggers and/or blog interviewees are strictly their own and do not necessarily represent those of SWBC. The information provided on this site is for general information only, and SWBC cannot and does not guarantee the accuracy, validity, timeliness or completeness of any information contained on this site. None of the information on this site, nor any opinion contained in any blog post or other content on this site, constitutes a solicitation or offer by SWBC or its affiliates to buy or sell any securities, futures, options or other financial instruments. Nothing on this site constitutes any investment advice or service. Financial advisory services are provided only to investors who become SWBC clients.