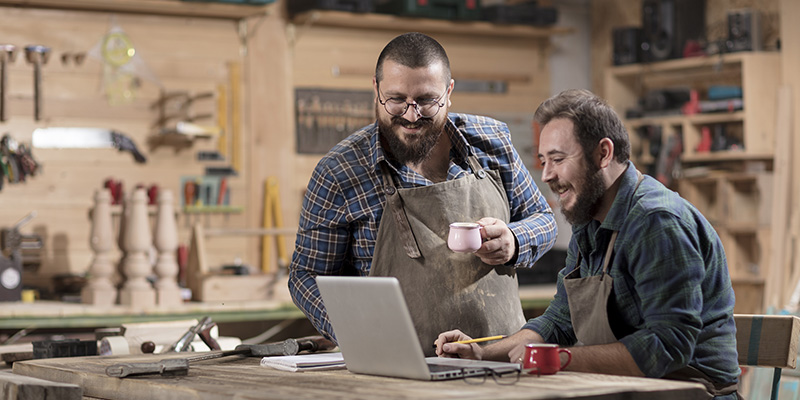 Exit planning is complex, and unfortunately, not many of your commercial customers have the technical acumen or resources needed to ensure they are prepared. They must establish their exit goals and plan for business transfer, build their business' value, find an appropriate successor or buyer, navigate taxes, and keep their key employees happy enough to stick around, among other things. With so many considerations and activities surrounding a business exit, whether they know it or not, your commercial clients need access to a team of advisors. A business owner planning platform can provide your bank with the ability to increase its value to your commercial clients while increasing customer retention and creating additional revenue opportunities.
Why Should Your Bank Offer Exit Planning Services?
Establishes a unique market differentiation for your bank

Provide new services and value to existing clients and potentially generates additional non-interest income and increased deposit activity

Improve the credit quality of your business clients and enhance your SBA loan appraisals.

Provide services that build and preserve business value for your clients

Perform tax, estate and charitable planning, in partnership with your wealth management and insurance divisions

Perform management/key-employee incentive planning

Provide services for business continuity and to address other risk-mitigation issues

Provide interim or final financing in the event of an insider or third-party sale or an ESOP transaction

Fund the purchase of new equipment, expansion, or upgrades in anticipation of a third-party sale

In partnership with your wealth management division, advise the business owner on ways to invest the proceeds of the sale of the business
A Strong Team
No single advisor possesses the required expertise to create and implement all of the activities required in a typical exit plan. For the best chance at exiting their business on their terms, they will likely require the services of several advisors in different fields. Here are some of the parties typically involved in the exit-planning process:
Certified public accountant (CPA)

Financial advisor

Business lawyer

Estate-planning lawyer

Insurance professional

Business-valuation specialist

Exit-planning advisor
Depending on the size and complexity of your customers' business and the requirements they set for a successful exit, they could need anywhere from two to seven different advisors on their advisor team. Even though many advisors are needed, it takes a qualified and certified exit planning professional, a CEPA, to navigate the process for your bank and for each customer.
What makes a good advisor team member?
As your bank continues to offer resources to your commercial customers to enhance your value and deepen your relationships, here are five general qualities you can advise your customers to look for when building their exit planning advisor team:
1. Known expertise
Best-of-the-best advisors focus on addressing specific planning or transactional issues related to their in-depth expertise. They are the known experts in their fields.
2. Collaboration
Advisor team members must work well with other advisors. They should contribute to the group discussion and offer constructive feedback to other advisors.
3. Timeliness
Exit planning depends on established deadlines. Only the timeliest advisors should make the cut for your commercial customers' team because the correct implementation of your exit plan depends on the team's timeliness.
4. Willingness to learn
There's no room for stubbornness on an exit planning advisor team. Prospective advisors must be willing to learn about the exit planning process and their roles in it. At the end of the day, advisors represent the business owner's interests.
5. Willingness to put in time
Before and after they join a business' team, advisors must understand that brainstorming with the business owner and other advisors is a necessity. Spending time with the business and fellow advisor team members gives them the insight, priorities, and direction required to develop planning solutions.
How to help your commercial customers construct an advisor team
There are several ways for a business owner to construct an advisor team. The best way to find necessary team members is to ask existing advisors for referrals and recommendations of advisors with specific knowledge and expertise—or to work with their commercial lender for this service. When banks offer business and exit planning to their commercial clients, it gives them an opportunity to increase its value, customer retention, and create additional revenue opportunities for the bank.
Studies show that businesses that have gone through a formal planning exit-planning process experience an increase of business value of 5x or more. Sadly, other recent surveys have shown that 70% of business owners are unfamiliar with their transition options and 80% of business owners have not engaged with a formed or formal transition team.
Throughout years of working with clients in business and exit planning, I've found that business owners experience the best results exiting their businesses when they've consulted multiple advisors with proven track records of success.
To learn how Tom can help your commercial clients succeed and how your bank can establish this unique platform, visit https://www.swbc.com/business-owner-planning.