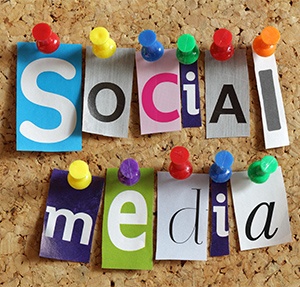 It's no secret that social media has made its way into millions of Americans' everyday lives. And, now it's also making a huge impact in the world of business. In fact, according to ThinkAdvisor, 90% of affluent consumers use social media, and 44% of these users engage with financial institutions specifically. These numbers have great potential to grow and offer new opportunities for financial institutions to improve their bottom line. Here are some reasons why financial institutions can benefit from utilizing social media:
1. Increased Interaction With Consumers
One of the factors that separate companies from one another is the level of customer service that is provided to their consumers. Eighty-two percent of U.S. consumers said they stopped doing business with a company due to a poor customer service experience. Social media opens a new door to providing excellent customer service by acting as an additional communication channel to quickly resolve issues. It also allows you to easily gather consumer opinions and better understand what they come to expect from a financial institution by posting a simple question. Responding to both good and bad consumer comments can lead to a better business relationship, and it shows that you care about what is said of your brand and service.
2. Public Relations and Communication Tool
Social media is a great platform for public relations efforts and to use as a communication tool. News regarding your financial institution can be posted through social media along with new products and services being offered. Like never before, your messaging has the potential for immediate amplification the more followers you have on your social networks. Remember, those that have chosen to follow your social channels have done so voluntarily, so you stand to make a greater impact on those that have identified themselves as wanting to hear your message and receive your updates. So, tread lightly. This is a valuable relationship. Don't overexpose news/updates that will not resonate with your audience. Financial institutions should leverage social media today to build brand awareness, engage consumers, and build brand affinity.
3. Be the Go-to Resource for Everything Financial
According to HubSpot's Annual Report of Inbound Marketing and Sales Trends, 82% of marketers who blog daily acquired a customer using their blog, as opposed to 57% of marketers who blog monthly. Blogs are a great way to share your knowledge and educate your consumers. Consider diversifying your blog posts, too. Remember, consumers don't need to know everything about everything, so sprinkle them with high-level information on a number of things--giving them just enough information to pique their interest. When you engage with consumers directly, you can then use that opportunity to explain the ins and outs of the topic at hand; don't feel obligated to do it in the 500-word, one-screen display on your blog. When you display the wealth of knowledge that your institution has to offer, then consumers will begin to see you as a resource for all of their financial needs.
4. Networking
Did you know that 80% of Fortune 500 Companies are active on Facebook and Twitter? According to an annual study conducted by University of Massachusetts Dartmouth Center for Marketing Research, this is a good indicator of future adoption and emerging social trends. Networking doesn't always have to be a face-to-face conversation; social media networking is more active than ever, and it can be attributed to social media helping to segment audiences based on commonalities. It is a great way for both employees and consumers to develop professionally. Plus, it helps develop more business opportunities for your financial institution. Referrals that once may have found their way to you by "word of mouth" advertising can now be attributed to today's "word of mouse" phenomenon. In essence, thanks to online connections, the networking that one person could do in an hour-long networking event, can now be done in mere seconds online--and with a greater reach.
In the past year, 12 million more Americans have started to visit a social media platform daily. It's not a choice of whether or not you want to incorporate social media into your financial institution's marketing strategy, it's a matter of when you will incorporate it into your marketing mix, if you're not already. With new social networks constantly emerging, it really is a necessity to keep up with consumers' growing needs and wants. It is important for your consumers to feel connected with your institution. Many of life's biggest events involve their finances, so it's important to be there—when and where they need you.