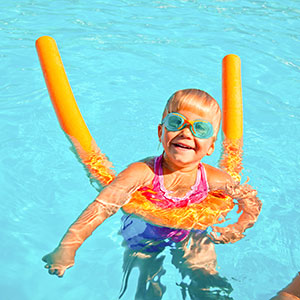 Imagine that it is a bright sunny day—perfect for laying out at the pool. You're ready to go, when you suddenly realize that you don't have any tanning lotion. So you hop in your car, drive down the street to the closest grocery store, and pick up the lotion that you desperately needed.
Conveniently, the lotion is located in an aisle full of fun activities that can be used at the pool. So, you decide to pick up a couple of floats, a ball, and you might as well add in some new shades, too. You're so excited with the treasures that you have found that you can hardly wait until your feet meet that baby blue water.
Now, imagine if you had gone to the store and the tanning lotion was in its normal spot, next to all of the other lotions. Sure, you may not have known that you were missing out on all the other fun pool options, and you may have even saved yourself a little extra money, but when you got to the pool and saw all the other people with their floats and their nice new shades, you'd probably wish then that you had thought to pick some up yourself.
When it comes to your financial institution, don't you want to be the one who offers your borrowers everything they might need—before they even know they need it? Not capitalizing on the opportunity when it presents itself can prove unfortunate since there is no guarantee that a consumer will return to you after a missed opportunity—especially, if another financial services provider has fulfilled their need.
In recent years, financial institutions have benefited from the healthy rise in auto lending activity. And although an increase is always a plus, it does not mean that you are fully capitalizing on your lending strategy.
So what can you do?
In order to fully capitalize on your auto lending strategy, you need to offer the one thing that all of your borrowers are going to be required, by law, to obtain—auto insurance.
Sounds simple, doesn't it? By offering auto insurance to each and every auto loan borrower, you're not only providing them the protection that they need (and were going to have to purchase anyway)—you're also giving them the convenience of purchasing everything from one place. Proactively offering your borrowers what you know they need—whether they realize it or not—works to build a relationship of trust where your borrowers begin to understand that you have their best interest at heart.
When you can connect with your borrowers on that level, chances are they'll refer friends and family to you so that their friends and family, too, can partake in the same experience they have come to know, expect, and love.
It's safe to say that auto loans and auto insurance are two peas in a pod. Offering insurance at loan closing is a cost-effective, simple way to generate revenue for your institution, all while eliminating the inconvenience that your borrowers would have to incur if having to shop around for their own insurance policies.