On Wednesday, Federal Reserve (Fed) Chairwoman, Janet Yellen, held firm against three dissenting voters to delay raising the Fed Funds rate until at least the December 2016 meeting. The Chairwoman stated that while the case for raising rates was strong, the majority of the Federal Open Market Committee (FOMC ) felt it was appropriate to see another two to three months of data before instituting a raise. Ms. Yellen was very careful to reassure the markets that any monetary tightening would be very gradual.
For me, the "ah-ha" moment came Friday when Ms. Yellen was asked the following question by Erik Schatzker from Bloomberg Television:
"The Fed outlined today in the dot plot, while there is clearly a wide range, the median expectation is for the Fed Fund target to rise by a half percentage point in 2017, three quarters of a point in 2018, and an additional three quarters of a point in 2019, bringing us to 2.5—2.75%. And then 2.75% to 3% percent in the long run. At the same time, the median forecast for GDP growth is 2% for the next two years and 1.8% thereafter. And I should add the most optimistic projection is for growth of just 2.5% of all the projections outlined here. So, if economic growth is going to be that slow for that long, where will the inflationary forces emerge that would require tightening of 250 basis points from where we are now? And if not inflation, is there some other explanation?"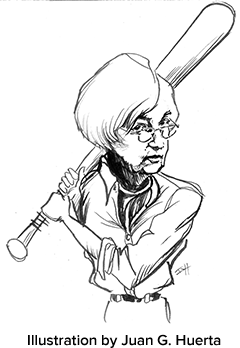 If you are a baseball fan like me, you know the face of a batter who is sitting on a full count, fully expecting a fastball, and instead, gets a curve that breaks right over the plate for strike three. That's how the Chairwoman's face looked during that question. The frightening thing is, Ms. Yellen's answers really seemed to confirm that there's no way the Fed will be hiking the funds rate 250 basis points over the next 2.5 years.
The Chairwoman spoke about the "miserable" pace of worker productivity over the last five years, offsetting the impressive pace of job growth when it comes to economic output. The Chairwoman said, that as a policy maker, she is very concerned because slow economic output ultimately means lower living standards for the population. With that answer, can't you just picture Ms. Yellen, or a future Fed Chairperson, sitting in the seat two years from now doing what the Fed did Wednesday—passing on tightening monetary policy because growth is anemic and inflation is still paltry? Sure, the FOMC may tighten 25 basis points in December, but after that? I can see the Fed on hold for almost all of 2017 and maybe 2018. Therefore, from a fixed income trading and investment standpoint, I think the front end of the yield curve, at least 3.5 years and in, volatility will be minimal. Therefore, securities such as 3-year callable agency notes may actually be attractive for the first time in a long time.
Now, let's think about the Chairwoman's concern about lower living standards. What puzzles me is that it seems like the Fed is not seeing the strong correlation between its extraordinary low interest rate policy and living standards, not to mention spending and saving. The Fed, in addition to keeping the Funds rate close to zero, continues to maintain the balance of its $1.76 trillion Mortgage-Backed Securities (MBS) by purchasing anywhere between $25 billion to $40 billion Freddie, Fannie, and Ginnie MBS a month. This program started in 2010 and six years later, it is still running as strong as ever. While it's true the Fed isn't adding to the portfolio, by reinvesting the runoff, they are keeping roughly $20 billion of 10-year US Treasury duration equivalents out of the market every month. This essentially neutralizes the supply of real 10-year notes the Treasury auctions every month. This continued activity, coupled with the Quantitative Easing (QE) programs of the other major world central banks, has squashed the yields of relatively safe yielding bonds that savers need.
Therefore, if you are an American citizen saving for retirement, or heaven forbid, are already retired and need your savings to grow and work for you, there are basically two choices you have (since yields are so low on traditionally safe investments like Treasury bills and notes and federally-insured bank CDs):
Significantly slow disposable income spending (if you have any) or;

Invest in risky assets, like stocks, and take the risk of losing money you cannot afford to lose
So if you're scratching your head and wondering why stocks keep going up, this is one of the big reasons. What makes this so maddening is that we have already seen this happen in Japan. The population is aging at exactly the wrong time—typically safe yielding investments have zero yield or worse! This is why the Japanese can't boost consumption. Why should it turn out any different for us if the Fed keeps this up?
Wednesday's FOMC statement said, "Household spending has been growing strongly." This has been a consistent theme for the majority of the FOMC meetings this year. However, the Fed continues to voice disappointment that incomes remain flat. The Fed seems very complacent about this disconnect. Isn't this similar to the one they had when seemingly everyone in America could afford their dream house? Not to be political, but if households were spending vigorously with their own money, wouldn't the public generally be happy with the status quo? If this were the case, shouldn't Jeb Bush or someone mainstream like him, have a commanding lead on his way to becoming the 45th President of the United States this November? Instead, we have a whole lot of angry citizens ready to make Donald Trump president. Most people agree, no matter how you feel about him, that a vote for Trump is an angry vote against the status quo.
Therefore, it would appear that this strong household spending is being financed with cheaply borrowed money at a potentially unsustainable rate. History has shown us that if real economic growth and real increases in income do not take the place of growth financed with cheap debt, eventually there is a credit event, and household spending stops. I can't see any reason why this is something that will not occur in the not so distant future.
The Fed is in a hurt locker whether they know it or not. To some extent, it is a hurt locker of their own making. I believe that they will either be on hold or actually easing again in 2017.
Member SIPC & FINRA. Advisory services offered through SWBC Investment Company, a Registered Investment Advisor.
—Not for redistribution—
SWBC may from time to time publish content in this blog and/or on this site that has been created by affiliated or unaffiliated contributors. These contributors may include SWBC employees, other financial advisors, third-party authors who are paid a fee by SWBC, or other parties. The content of such posts does not necessarily represent the actual views or opinions of SWBC or any of its officers, directors, or employees. The opinions expressed by guest bloggers and/or blog interviewees are strictly their own and do not necessarily represent those of SWBC. The information provided on this site is for general information only, and SWBC cannot and does not guarantee the accuracy, validity, timeliness or completeness of any information contained on this site. None of the information on this site, nor any opinion contained in any blog post or other content on this site, constitutes a solicitation or offer by SWBC or its affiliates to buy or sell any securities, futures, options or other financial instruments. Nothing on this site constitutes any investment advice or service. Financial advisory services are provided only to investors who become SWBC clients.