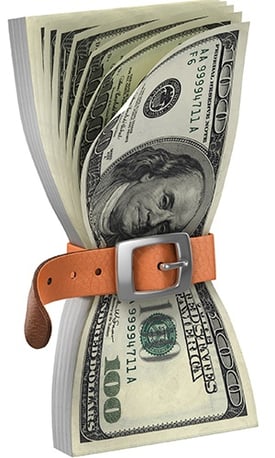 It was another bloody week for commodities and risk markets, with crude oil breaking through $30 a barrel last Friday morning. The collapse in oil has gotten so bad that it seems to be changing the fundamental inflation outlook of some of the most hawkish Federal Open Market Committee (FOMC) members at the Fed. Last Thursday, St. Louis Federal Reserve Bank President James Bullard said:
"With renewed declines in crude oil prices in recent weeks, the associated decline in market-based inflation expectations is becoming worrisome. One circumstance where one may have to become concerned is when inflation expectations themselves begin to change, due to the changes in crude prices."
This quote from one of the most hawkish members of the Fed, stating that something he once regarded as a transitory negative for inflation may now be becoming a structural one, is quite a big deal, in my opinion. So much of inflation is psychological.
Essentially, President Bullard is saying that persistently weakening oil prices are now seeping into the psyche of the economy. They have become a deflationary force. This is where the game changes at the Fed. The word "transitory," with regard to deflationary effects, is starting to become "structural." This is very important. Consider this statement from Fed Chairwoman Yellen at the December 16, 2015, FOMC press conference, responding to the question of when transitory becomes something more permanent:
"If we analyze inflation data and conclude that clearly transitory influences are holding down inflation, I do not want to say that we would respond to that, but if we concluded that there were structural factors, there were a problem with our theory, or some global deflationary force that was persistently holding down inflation in a way that was not transitory, and I don't want to attach any simplistic meaning to what we would need to see to conclude in the inflation data, but if we concluded that, then we would certainly have to take action to make sure we adjusted policy so that we attain our 2% objective."
It appears that we may be at this point with regard to monetary policy. As I type this, the two-year Treasury note yields 0.82%. The note closed 2015 at 1.05%. I think 1.05% had at least two FOMC tightenings built in for 2016 (The Fed had been projecting four 2016 tightenings). This week the two-year has begun to take at least one of those two tightenings out.
In the belly of the yield curve (five-year and seven-year notes), things are getting very interesting. The notes have declined in yield since year-end 35 and 32 basis point, respectively. With the next FOMC meeting less than two weeks away, I think we can see a lot of volatility in the belly of the curve. The January 27 FOMC meeting does not have a press conference to follow their statement, but the statement will be extremely interesting to see if the Fed acknowledges the sea-change taking place for inflation.
Also, be aware that we have sort of a central bank sandwich with the European Central Bank (ECB) meeting January 21 and the Bank of Japan meeting January 29. Both of those institutions could very well be in increased stimulus mode. That could mean significant appreciation of the U.S. Dollar, which is another deflationary pressure.
Taking all this in makes me wonder if perhaps the only thing that is really transitory in 2016 is the Fed's "monetary policy normalization."
SWBC may from time to time publish content in this blog and/or on this site that has been created by affiliated or unaffiliated contributors. These contributors may include SWBC employees, other financial advisors, third-party authors who are paid a fee by SWBC, or other parties. The content of such posts does not necessarily represent the actual views or opinions of SWBC or any of its officers, directors, or employees. The opinions expressed by guest bloggers and/or blog interviewees are strictly their own and do not necessarily represent those of SWBC. The information provided on this site is for general information only, and SWBC cannot and does not guarantee the accuracy, validity, timeliness or completeness of any information contained on this site. None of the information on this site, nor any opinion contained in any blog post or other content on this site, constitutes a solicitation or offer by SWBC or its affiliates to buy or sell any securities, futures, options or other financial instruments. Nothing on this site constitutes any investment advice or service. Financial advisory services are provided only to investors who become SWBC clients.