Yesterday, many of us, including me, were expecting European Central Bank (ECB) President, Mario Draghi, to deliver an extension of the ECB's already massive Quantitative Easing (QE) program, as well as potentially announcing more asset classes the ECB could buy. Instead, Draghi announced that at the current time, the ECB is comfortable that it has provided enough stimulus to promote growth and spark upward price pressure. Even though he opened his address by stating that the ECB is ready to do more in the future, if necessary, European sovereign bonds sold off hard, dragging the longer end of the U.S. Treasury curve with it.
As we came into Friday morning, the selloff is continuing. Personally, as a bond bull, I am not overly concerned with the longer end of our Treasury curve. I think a lot of the selling we are seeing in the long end is due to bad positioning. Many traders have been executing trades that would benefit from the flattening of the yield curve, primarily by buying 30-year treasuries and selling five-year treasuries. Some of those positions are being closed out now, and we are seeing the effect of that. Additionally, as I wrote a couple of weeks ago, many investors have been selling volatility. Now that we are in danger of breaking out of the very tight trading range on rates, we have bad volatility positions being closed out as well. Personally, I think it is transitory and presents a buying opportunity.
I was listening to President Draghi yesterday, and he said some very interesting things. Most interesting was that he essentially gave the governments of Europe, and to some extent, the rest of the developed world, a challenge. He reiterated that structural reforms and fiscal stimulus are needed to pull Europe (and the developed world) out of economic stagnation. Draghi was basically telling the governments of Europe to clean up their own backyards. With regard to "structural reforms," it seems to me that major European countries like France and Italy have been doing things exactly the same way since they rose from the rubble of World War II. The bubble-fueled prosperity the Union enjoyed before The Great Recession masked the sclerotic economic and social regimes of these vitally important countries. The problems are now laid bare, and there is absolutely no sign that anything is being done about it.
However, my favorite Draghi quote was a slap at the Germans. Draghi said, "Countries that have fiscal space should use it. Germany has fiscal space." You could hear the lederhosen snapping all across Germany! Seriously, though, we really need to think about why Germany isn't doing more to spur growth throughout the continent. As President Draghi says, they have "space," and they can borrow long term at negative interest rates! My take on what I call "The German Problem" is this: I think the Germans looked into the abyss in 2010-2011, as the streets of Athens burned (along with the near collapse of Spain, Portugal, Ireland, and Italy), and racked up the pluses and minuses of keeping the European Union going. In the end, the Germans realized that the breakup of the Union would cost them more than staying in it. However, I get the feeling that the Germans also decided they weren't going to put another dime into the relationship. It reminds me of a bad marriage that stays together because neither spouse can afford to leave!
I will allow myself a moment to dream that Draghi really meant what he said yesterday and that the expansion of ECB stimulus has reached its limits, and it is time for the governments and businesses of Europe to pick up the baton. However, I'm highly confident that this is not the case. President Draghi used the opportunity to chide European governments, but he also said that if growth and inflation continued to sag or get worse, he was ready to keep expanding QE. He also took a swipe at European banks when he said, "Low interest rates should not be used as the justification for everything that goes wrong with banks. I think it would be a mistake to do so." I interpret that as Draghi telling European banks, "You're going to take Negative Interest Rate Policy (NIRP) and like it!" Unfortunately, Draghi believes that what he and the ECB are doing is the right thing to do, and they will do more if they feel they have to. That, in turn, leaves his "clean up your own backyard" message to the governments of Europe ringing hollow.
Another obstacle in the way of normalizing monetary policy globally is the simple fact that almost all asset classes that matter have become very highly correlated to interest rates. In turn, interest rates are nearly completely dependent on central bank monetary policy. A frightening article came out from Bloomberg News yesterday, "Asset Contagion Worse Than 2008 as Markets Held Hostage to Rates."
Credit Suisse has an indicator which tracks price relationships across major asset classes. The current index reading shows that the different asset classes are influencing each other at the highest rate since they created the index in 2008.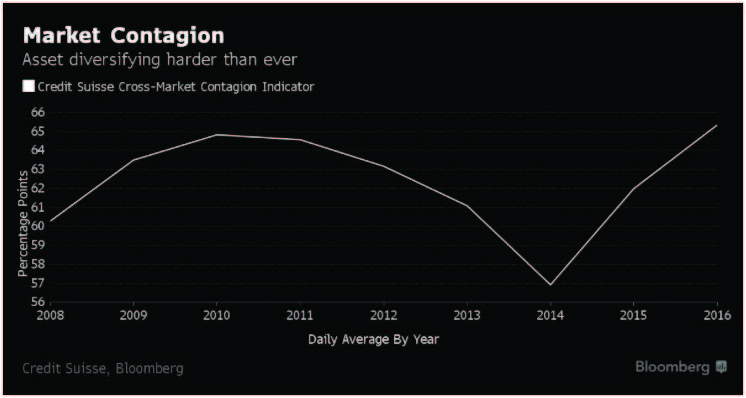 "Rates are driving everything," Mark Connors, Credit Suisse's global head of risk advisory in New York, said by phone. "At a minimum, you have to be aware of the influence of central banks. What's moving the market is people's demand for yield and return. Fundamental analysis doesn't explain the movement higher from here."
This morning there is a lot of talk about the multi-year global bond party coming to an end. We have heard that message before, usually right before a big rally. A combination of the tremendous demand for yield, and the central bank realization that their hands are tied with regard to real monetary policy normalization makes this latest selloff in bonds a buying opportunity.
Member SIPC & FINRA. Advisory services offered through SWBC Investment Company, a Registered Investment Advisor.
—Not for redistribution—
SWBC may from time to time publish content in this blog and/or on this site that has been created by affiliated or unaffiliated contributors. These contributors may include SWBC employees, other financial advisors, third-party authors who are paid a fee by SWBC, or other parties. The content of such posts does not necessarily represent the actual views or opinions of SWBC or any of its officers, directors, or employees. The opinions expressed by guest bloggers and/or blog interviewees are strictly their own and do not necessarily represent those of SWBC. The information provided on this site is for general information only, and SWBC cannot and does not guarantee the accuracy, validity, timeliness or completeness of any information contained on this site. None of the information on this site, nor any opinion contained in any blog post or other content on this site, constitutes a solicitation or offer by SWBC or its affiliates to buy or sell any securities, futures, options or other financial instruments. Nothing on this site constitutes any investment advice or service. Financial advisory services are provided only to investors who become SWBC clients.