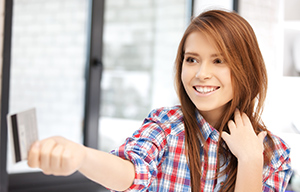 The Great Recession of 2008 and the subsequent credit crunch led many consumers to rely on prepaid debit cards and stored value cards as a primary form of payment transactions. While prepaid cards may not be the right solution for all consumers, they can be a great tool for teenagers and young adults to learn proper money management skills.
The earlier that young people are equipped with the knowledge and skills to properly manage money, the more prepared they will be to navigate the pitfalls of managing finances as adults. According to a report released by the Money Advice Service® , children form money habits as young as 7-years-old, proving just how vital it is to teach young consumers the basics of money management early in life.
Grooming a financially literate generation of young consumers is an investment your financial institution should consider making. As these young people grow into adulthood, and their financial needs evolve to checking/savings accounts, car loans, mortgage loans, retirement plans, etc., you'll be the trusted and familiar institution that they turn to. Additionally, as the young cardholder enters the workforce as a part-time or even full time employee, the prepaid debit card issued can be used as a payroll card. The earlier you start to build loyalty, the better your chances are of holding on to those customers as they enter adulthood.
Prepaid cards offer financial novices an opportunity to learn how to manage money without suffering the consequences of overdraft penalties, or worse—a reduced credit score. Like credit and debit cards, prepaid cards can be used online and in most brick and mortar businesses that accept major credit cards. However, prepaid cards operate like cash—once the card balance reaches zero, purchases are waitlisted until additional funds are released onto the card. The hope is that the prepaid cards never reach a zero balance. This is a great way for minors and young, financially inexperienced consumers to learn how to budget a predetermined amount of money and plan their spending accordingly. Prepaid cards also offer parents the ability to transfer money to their children or college-aged students that may be away from home, while monitoring their spending habits.
Unlike cash, prepaid cards also provide security to your young customers in the event that their card is lost or stolen. Most prepaid cards have deposit insurance coverage that can recover lost or stolen assets, protecting your members and providing peace of mind.
​Offering prepaid cards benefits both you and these young consumers; however, reaching them in their fragmented and noisy world is not easy. According to a study conducted by Time Inc., consumers in their 20s switch media venues 27 times per non-working hour, so your institution will have to make concerted efforts to market to them.
Try working these three suggestions into your marketing efforts to increase your opportunity to reach this valuable market:
1. Offer Incentives
Incentive programs have become quite common for retailers. There are frequent flyer miles, customer loyalty programs, and membership rewards programs, to name a few. Young consumers are accustomed to being rewarded for shopping at their favorite stores, eating at their favorite restaurants, and as they become financially independent, they will expect to be rewarded for using their cards to make purchases.
2. Get Digital
Technology is sewn into the fabric of young consumers' lives. They rarely are seen without their smartphone in hand. It's not uncommon to see a 20-something with a phone, mp3 player,and tablet in tow. Join them and market prepaid cards to them in this digital landscape that they are continuously roaming. Consider funneling resources to things such as banner ads on popular sites, Facebook ads to a targeted audience, a blogging strategy; the options to get digital are limitless.
3. Be Socially Responsible
Although Gen Y is sometimes coined as being self-absorbed, they also tote the label of "Echo Boomers" because of their socially and environmentally responsible values. This generation of consumers believes in recycling, volunteering, and donating to charities, among other things.
Your institution can take simple steps to demonstrate to young consumers that you are also socially responsible. By offering electronic statements instead of paper, making small donations to local charities and organizations, or hosting things such as coat drives that support the needy, your community involvement will be clear, which speaks volumes to young consumers looking to find a financial provider.
Not only do prepaid cards offer a valuable service to your customers, but they are also an effective way to generate revenue for your financial institution. Offering prepaid cards gives your institution the opportunity to charge fees such as activation fees, ATM fees, reloading fees, and inactivity fees.