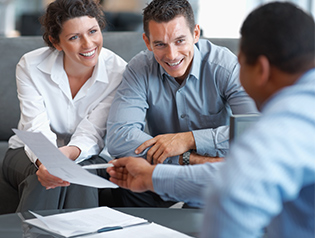 When it comes to selling, there are some hard and fast rules that the most successful salespeople follow—smile, give a firm handshake, listen to the needs of your prospect, don't be pushy, etc. However, ​when it comes to selling property and casualty insurance, your financial institution has a unique opportunity to cross-sell to your existing clients. Those customers have already placed their​ trust in your institution, so they are an obvious market for complimentary insurance products.
Furthermore, it is a known fact that it is more cost effective to market to your existing customers than to go after new ones. According to Gartner Group Statistics, 80% of your future revenue will come from 20% of your existing customer base.
​​Pay attention to your customers' life events

Good salespeople get to know their customers on a more personal level. They know if their customer gets married, has children, or retires. They not only stay informed of these major life events to build rapport and a strong relationship with their customer, but they also understand the value of cross-selling to meet their changing needs.

If you learn that your checking account customer got married, you can offer him or her jewelry insurance for their new wedding ring, or a new auto insurance policy that would include their spouse's vehicle. If your customers have their first baby, you can offer them a life insurance policy. With most of your customers' life events, you have the opportunity to cross-sell an insurance product.

Turn service calls to sales calls

If one of your customers calls or drops by your institution for account servicing, such as a name or address change, you have the opportunity to cross-sell an insurance product to them. By navigating their customer profile, you can see what products they currently have. Take the opportunity while they're in front of you or on the phone, to offer insurance products that they may be missing. It's a known fact that many​ Americans either don't have adequate life insurance coverage or don't have any at all.

According to LIMRA's 2013 Life Insurance Barometer Study, only 62% of consumers have life insurance. Service calls are a prime opportunity to give your clients a positive customer service experience and to offer personal and commercial insurance products they need, like homeowners, auto, and liability insurance, to protect their most important investments.​

Offer insurance at the close of every loan

Insurance and loans go hand-in-hand. Insurance should be offered at the close of every loan you sell. From auto loans to home loans, and even business loans, there are multiple insurance products to offer. Not only do they protect your borrowers' investments and generate fee income for your institution, but quite frankly, they are an easy sell! If your borrower already trusts you for their home or auto loan, why wouldn't they trust you to provide them with adequate and affordable car or homeowners insurance?
Cross-selling insurance products to your existing customer base benefits you and them. They benefit by having insurance products that could potentially save them thousands of dollars, and give them peace of mind. Your institution benefits by building member loyalty, and ultimately, increasing fee income.