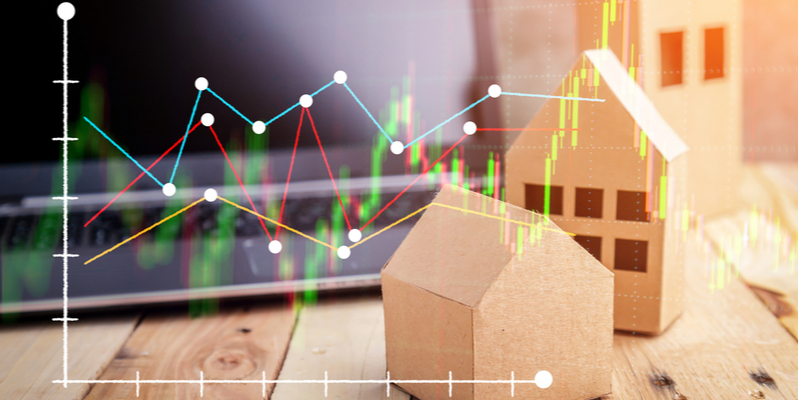 When you own a house, most hope that they never have to know too much about the intricacy of the home's plumbing system. Odds are, if there's a plumber at your home telling you about how your waste line connects to the public sewage system, it's not a good thing. The financial system has a lot of plumbing that, like the plumbing in your house, if you hear about it, there's a big problem. Currently the Fed, through different financing facilities, is plugging a lot of leaks and cracks in the system caused by COVID-19. Most of the solutions are from the 2008-2009 playbook. However, there's a huge "plumbing problem" in the mortgage market that so far has not been addressed in full.
The last crisis was centered on mortgages that were underwritten to fail. The latest crisis has to do with the ability to service perfectly good mortgages sold to Fannie Mae, Freddie Mac, and Ginnie Mae that have been packaged into the Fannie Mae, Freddie Mac, and Ginnie Mae mortgage-backed securities ("Agency MBS"). Any payment disruption to the $11.5 trillion Agency MBS market caused by the failure to service would be catastrophic on a global scale. Since we are all full-up on catastrophic right now, another event—especially one that can be avoided—is "unwelcome."
Mortgage lenders who are approved "seller-servicers" for Fannie, Freddie, and Ginnie are paid a monthly fee to collect principal and interest (P&I), hazard insurance, and local real estate taxes from mortgagees. They remit the P&I to the appropriate agency, who in turn passes the P&I to bondholders. The taxes and insurance portion of the borrower's monthly payment is put into escrow with the servicers responsible for making sure the insurance and taxes are paid. In many cases, the mortgage lenders service their own production.
Before the 2007 mortgage crisis, the bulk of Agency-eligible mortgage production and servicing was done by financial institutions like banks. However, after the crisis, many "non-bank" originators rose up, with quite a few becoming as big as the big banks. There are many more that while less in size, when put together as a cohort, have a very large presence in mortgage lending and servicing. Some focus primarily on FHA and VA lending (those two agency-lending programs go into Ginnie Mae MBS), but many others are in the conventional mortgage lending market. Unlike banks, these mortgage lenders and servicers do not have a lot of capital and rely primarily on banks for liquidity to fund mortgages and pass on delinquent P&I. With regard to the latter, servicers are responsible for passing on the P&I to the agencies from loans that are delinquent. Eventually, the agencies reimburse the servicer when the loan is remediated. However, this can take months so the servicer could run into a short-term liquidity squeeze if too many borrowers go delinquent too close together.
For the past few years, much ink has been spilled about the potential risks of having a significant portion of the Agency-mortgage market serviced by non-bank entities that are thinly capitalized and completely reliant on wholesale funding to make their loans and service their production. Here is a quote from Michael Bright, EVP, and COO of Ginnie Mae from an interview with The Washington Post on September 21, 2018.
"We've never been in an environment where there were quite this many non-banks. So we need to take additional measures, in my view, to prepare for an economic environment with either higher delinquencies or higher interest rates."
As per usual, nothing much was done and here we are!
With COVID-19, the agencies and their servicers are looking down the barrel of a non-payment event that nobody on the planet ever dreamed of. Not since George Bailey nearly defaulted on his payment to Mr. Potter in "It's A Wonderful Life" have things been this dire. Anticipating the wave of delinquencies and defaults that would occur as the virus shut down the economy, Ginnie, Fannie, and Freddie offered borrowers many months of payment forbearance. It is estimated that at least 30% of all mortgagees will choose forbearance. Servicers, however, have to keep passing on P&I to the agencies so the mortgage-backed securities these loans have been packaged into can receive their payments. Non-bank servicers simply do not have the liquidity, and without this liquidity, many will fail if this crisis is not addressed immediately. On Wednesday last week, Ginnie Mae announced the creation of a funding facility to provide their servicers liquidity. Freddie Mac and Fannie Mae are a different story.
Enter the wrong guy for the wrong job at the wrong time, Federal Housing Finance Authority ("FHFA") chief, Mark Calabria. Noted mortgage market expert Christopher Whalen wrote last week:
Last week, the GSEs Fannie Mae and Freddie Mac had a liquidity facility ready to put in place to support issuers. Meetings were scheduled with members of Congress to discuss the plan. Then suddenly, Mr. Calabria told the GSEs to stand down and shelve plans to support the industry. To say that people in and around the housing industry were flabbergasted is an understatement.
Following Calabria's action to shut down the servicer liquidity facility planned by the GSEs, the FSOC met and decided to take a "wait and see" approach to providing liquidity to mortgage servicers, banks and nonbanks alike. Again, we are told that the FSOC's decision was largely taken because of erroneous advice from Director Calabria, who has never actually worked in finance much less in the housing industry.
Without a liquidity facility for Freddie and Fannie servicers, like the one set up by Ginnie Mae, non-bank servicers are getting hit from all sides from a crisis they had nothing to do with. The entities that non-bank servicers use to obtain funding are demanding more capital, while the entities that buy non-bank servicer mortgages for forward delivery (Freddie, Fannie, as well as Agency Wall Street MBS dealers), are also demanding more capital to continue to take the forward delivery risk.
*Quick Explanation of Forward Deliver Risk: Mortgage companies estimate how many mortgages will close (based on applications and rate locks made in April) by June or July. To hedge themselves, they sell forward to the agencies or MBS dealers. The agencies and dealers who are buying forward hedge themselves by selling Agency MBS. If the non-bank lender goes out of business prior to delivering either loans or Agency MBS in June or July, the agency or dealer is suddenly short Agency MBS, which is bad, especially if rates go down and prices go up.
It is estimated that the current situation, with regard to non-bank mortgage originators, can last about one more month. If nothing is done very soon, preferably by the Treasury Department, there will be a crisis of immeasurable proportions.
As a side note; unfortunately, even with forbearance, eventually there will be defaults on mortgages insured by Freddie, Fannie, and Ginnie that will exceed most of risk managers' worst-case scenarios. Ginnie Mae is part of Treasury. They will have to get a significant taxpayer injection. Fannie and Freddie are in conservatorship; they are probably going to need $50 billion to $100 billion more capital to deal with the defaults and loss. Luckily with the latest bailouts, trillion has become the new billion. Therefore, maybe nobody will notice a $100 billion or so went missing. Good times.
Investing involves certain risks, including possible loss of principal. You should understand and carefully consider a strategy's objectives, risks, fees, expenses and other information before investing. The views expressed in this commentary are subject to change and are not intended to be a recommendation or investment advice. Such views do not take into account the individual financial circumstances or objectives of any investor that receives them. All indices are unmanaged and are not available for direct investment. Indices do not incur costs including the payment of transaction costs, fees and other expenses. This information should not be considered a solicitation or an offer to provide any service in any jurisdiction where it would be unlawful to do so under the laws of that jurisdiction. Past performance is no guarantee of future results.
© 2020 SWBC. All rights reserved. Securities offered through SWBC Investment Services, LLC, a registered broker/dealer. Member FINRA & SIPC. Advisory services offered through SWBC Investment Company, a Registered Investment Advisor, registered as such with the US Securities & Exchange Commission. SWBC Investment Services, LLC is under separate ownership from any other named entity. SWBC Investment Services, LLC a division of SWBC, is a nationwide