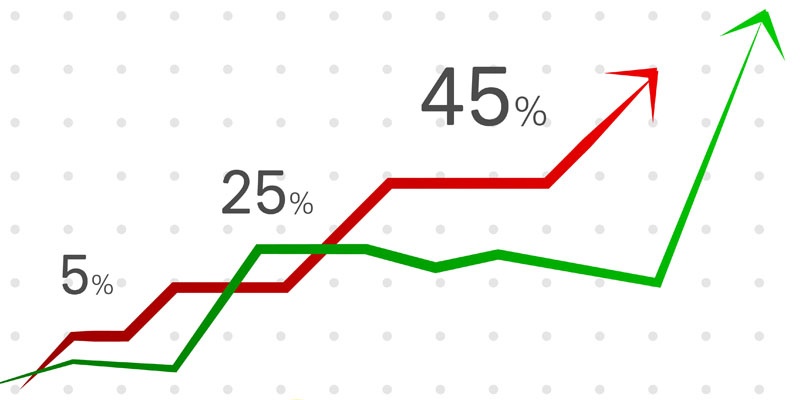 I am going to say, "No, the reflation trade is not back, at least as it relates to interest rate duration." I like rate duration, and I think a tremendous amount of domestic and foreign real money accounts like it too at current levels. Let's use the current yield of the 7-year U.S. Treasury note at 2.17% as a marker. I believe the 7-year Treasury will be below 2% by the end of October.
Last week, the Trump Administration released a nine-page tax plan with some rather bold objectives to supercharge economic growth through what seems to be mostly corporate tax cuts. The statutory corporate tax rate would be cut from 35% to 20%. Pass-through corporations (such as S-corps) would see their rates cut from 39.6% (the highest bracket for ordinary income) to 25%, and companies engaged in purchasing capital goods will have a five-year window to purchase and fully depreciate immediately. These are certainly some pretty significant changes, and accordingly, the financial markets had a strong reaction.
The equity markets rallied sharply, setting new record highs while treasuries sold off, hard. Therefore, as we enter the fourth quarter of 2017, we must ask ourselves whether these market moves are sustainable or did the market essentially "buy the rumor" and will they now "sell the news." My personal opinion is the euphoria over a tax overhaul happening anytime soon will end in disappointment.
The reason I say this is the time frame for passage is just too short, and the details of the plan are just too scant. The administration's budget director, Mick Mulvaney, answered criticism that the bill unfairly rewarded the wealthy by stating, "The bill is not finished yet. It is impossible to sit down and say, 'This will be the impact on this wage earner or this family at this particular time.'" Exactly. All legislation is a laborious process. A major tax overhaul is way past laborious.
Consider this from Bloomberg News:
"On the last page of a nine-page tax plan that calls for slashing business rates, President Donald Trump and congressional Republicans proposed a little-noticed, brand-new tax that may hit companies like Apple Inc. and Pfizer Inc. It's contained in one sentence: 'To prevent companies from shifting profits to tax havens, the framework includes rules to protect the U.S. tax base by taxing at a reduced rate and on a global basis the foreign profits of U.S. multinational corporations.' The rate and formula aren't specified, but that lone sentence carries multi-billion-dollar implications for multinationals. Their lobbyists are noticing."
That is a pretty big wrinkle. Moreover, unlike healthcare, which is complicated enough, getting to a consensus on tax overhaul is filled with so many below-the-surface issues like the multinational issue cited above. I can see the Republican congressmen in the Freedom Caucus faction in the House of Representatives loving this idea and traditional Republicans hating it. Furthermore, some Republicans will insist on the overhaul being revenue neutral (not adding to the budget deficit and increasing government debt, which is already at a high 77% of GDP).
The current plan has not been scored yet, but it is pretty clear that you need way-above-trend GDP growth for quite a few years to pay for the large tax reductions. If the Republican leadership in Congress and the White House plan on trying to do this under 2018 budget reconciliation, where they do not need a filibuster-proof vote in the Senate (60 votes, where there are only 52 Republicans), they once again only have a margin of two votes. Since I can't see any Democrats voting for the plan, reconciliation is the only way. To be allowed to do this, the Republicans need to stay nearly united. That is going to be tough sledding in my opinion.
Additionally, I am not sure how a corporate-centric tax cut plays to the President's base, and I am not entirely sure—even if it passed—how effective it would be. Underneath the statutory rates, for corporations, those that can afford think tanks, armies of tax attorneys, and tax accountants, the statutory rate may mean very little. Consider this from the Financial Times:
"Bankim Chadha of Deutsche Bank pointed out the 'staggering' gap in the effective tax rate paid by the 20 percent of companies that paid the most, compared with the 20 percent paying the least. This has widened from barely 10 percentage points in 2002 to more than 21 percentage points today, as companies worked out new ways to exploit the tax code. Mr. Chadha said this meant any corporate tax cut would have a differential impact on different stocks, while the impact on the overall market was less clear. He said: 'It's really a within-equities story. That's the biggest bang that I would see."
The "staggering gap" should tell you that treating corporate America as a monolithic block is unrealistic. Along this line, I think this has to create further fragmentation amongst lawmakers. Finally, isn't corporate America doing just fine right now without a massive tax cut? While some bemoan the "harsh environment" for business in the U.S.A., don't you have to ask yourself, "Why is the stock market making new records every day? Why are private equity managers buying American companies, at near record levels?" Of course, there is the effect of too many dollars chasing too few yielding assets, but much of this performance is still driven by current corporate earnings as well as future earnings for corporations and companies. That certainly seems like a vote of confidence for the business environment in the United States.
I feel like the Grinch saying this, but I don't think we will get significant tax overhaul by the end of 2017, and I don't think we will get it in 2018 either.
Member SIPC & FINRA. Advisory services offered through SWBC Investment Company, a Registered Investment Advisor.
Not for redistribution—SWBC may from time to time publish content in this blog and/or on this site that has been created by affiliated or unaffiliated contributors. These contributors may include SWBC employees, other financial advisors, third-party authors who are paid a fee by SWBC, or other parties. The content of such posts does not necessarily represent the actual views or opinions of SWBC or any of its officers, directors, or employees. The opinions expressed by guest bloggers and/or blog interviewees are strictly their own and do not necessarily represent those of SWBC. The information provided on this site is for general information only, and SWBC cannot and does not guarantee the accuracy, validity, timeliness or completeness of any information contained on this site. None of the information on this site, nor any opinion contained in any blog post or other content on this site, constitutes a solicitation or offer by SWBC or its affiliates to buy or sell any securities, futures, options or other financial instruments. Nothing on this site constitutes any investment advice or service. Financial advisory services are provided only to investors who become SWBC clients.