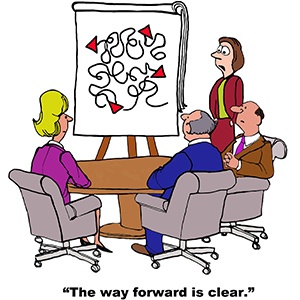 The title of this post is a quote from Federal Reserve Governor William Dudley from Thursday, October 15. Besides sounding like a line from an Abbott and Costello bit, I believe with those words The Fed has raised the white flag with regard to "Liftoff 2015." The Fed and the market are coming to an understanding and that understanding is that Zero Interest Rate Policy (ZIRP), and the risk-taking mindset it creates, is back for the foreseeable future.
In my opinion, The Fed isn't raising rates this year. I harbored strong doubts after they didn't raise in September but kept a healthy dose of fear that a raise was still possible in 2015. I also felt that the uncertainty The Fed was bringing to investors with their public dithering was damaging. The uncertainty is now gone. They missed their chance in June and September, and now they can't tighten. The calamity a raise in December would cause is too great. The markets would be caught too far off-sides as investors have, gradually at first, and then with increasing rapidity, discounted The Fed well into 2016.
As we noted in last week's post, a weakening of the strong U.S. Dollar (USD) sparked a rebound (sort of a dead cat bounce) in commodities, which in turn triggered rallies in emerging market currencies, global equities, and corporate and municipal debt. The culprit was continued bad news in China and generally bad news in Europe. In last week's post, I stated that it would take a significant change in the supply-and-demand technical for commodities such as crude oil to keep a risk rally going. A weaker dollar just couldn't do it alone. To some degree, I was right. As we began this week, equities sagged, emerging market currencies fell, and commodities declined.
However, a significant change in tone was felt in the Investment Grade Corporate market. The new issue calendar was backlogged as issuers waited earlier in the month for risk markets to stabilize and for dealers to clear secondary positions. They got their chance and $26.5 billion of bonds were issued. The results were very impressive. The supply was absorbed very well, with new issue concessions reasonable and break performance for the new issues very strong. To me, this type of performance is very indicative of a market that believes that ZIRP is back for the foreseeable future. Municipal new issuance, while less than corporate (about $4 billion), was met with very strong demand. The new issue calendar for Municipals next week is approximately $7.5 billion. Investment Grade Corporates have the potential record breaking Anheuser-Busch InBev deal looming in the near future.
I continue to believe that until we see the CRB (Thomson Reuters/Core Commodity CRB) Index, currently at 198, get back to the early summer levels of 220, the fundamentals for risk assets remains poor. Preferably a recovery in commodities should come from increased economic growth from Asia and Europe. Although to a lesser degree, if producers can reach production accords, it would help improve the fundamentals, too.
Nevertheless, I believe right now that strength in risk assets is all about the technicals. There is simply a vast amount of capital being put to work, obviously with no worry or uncertainty about The Fed. That isn't something I'd want to get in the way of.
If you've been holding back deploying capital for the purpose of waiting on The Fed, don't wait on them. My favorite spot on the yield curve for assets, such as Treasuries and Agencies, is the five-year. My favorite risk asset sector continues to be Municipals. We continue to find a number of good stories and opportunities in the sector. We favor 10 to 15-year final maturities, with seven to ten-year calls with ideal coupons of 5%.
Member SIPC & FINRA. Advisory services offered throughSWBC Investment Company, a Registered Investment Advisor.
- Not for redistribution -