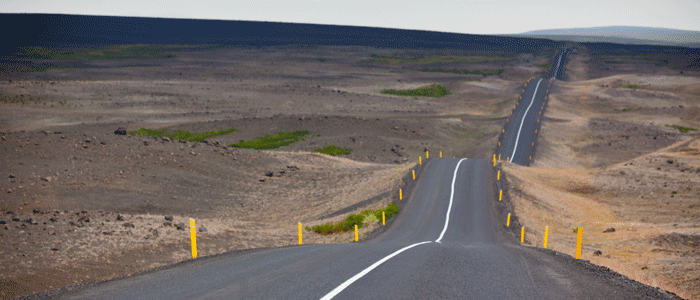 "Sure as night will follow day, most things I worry about never happen anyway."—Tom Petty
I was thinking about this Tom Petty lyric as I read a story this morning about the European Union (EU), Greece, and the International Monetary Fund (IMF) hammering out details of a deal to release more bailout funds. My first reaction was, "Greece? I thought they fixed this years ago!" It seems the Greeks have finally started to do what they should have done seven years ago: nod their heads and agree to everything the EU and IMF demand, and then just pretend a bit and really do nothing. The Europeans let them into the EU with a pretty good assumption that they had cooked their books, so why not assume they couldn't just pretend to implement austerity and all the other nasty things they agreed to do in order to get a bailout? This would have saved a lot of angst and tear gas.
There's a whole list of things that I thought would have sunk the world already. The collapse of commodity prices, emerging markets (which rely heavily on commodity prices), the soaring value of the U.S. dollar, Brexit, Italian banks, and China's worrisome capital flight are just a few. And yet, here we are, alive and well, even though all these problems remain unresolved. These are serious problems in and of themselves. Moreover, the potential of these happening at the same time is far from remote. Like the Greece situation mentioned earlier, I always thought that when you kick the can down the road, eventually you reach the end of the road. However, the world central banks, with prolonged zero rate interest rate policy (and in the case of the European Central Bank and Bank of Japan, negative) and approximately $14 trillion of Quantitative Easing (QE), have built quite a long road!
One event that I was sure would bring financial ruin was the Federal Reserve's (Fed) eventual attempt to reduce their $4.5 trillion balance sheet. However, the guidance the Fed gave on Wednesday seemed to make a lot of sense and essentially squashed my nine-year-old fear that there was simply no way they can get out of QE without destroying the planet! After all, when the now-infamous Taper Tantrum happened in 2013 after Federal Reserve Chairman Ben Bernanke merely suggested that the Fed might begin tapering their monthly purchases of mortgage-backed securities, the yield on the 10-year Treasury went from 1.62% to 2.74% in less than two months.
Last Wednesday, Fed Chairwoman Janet Yellen laid out the Fed's plan for reducing their balance sheet at the Federal Open Market Committee press conference. The Fed will start tapering reinvestment, they hope toward the end of 2017, by reducing the monthly reinvestment of their Treasury portfolio by $6 billion and reducing the monthly Mortgage-Backed Security (MBS) portfolio by $4 billion. That is a reduction of $120 billion a year, or about a 15% reduction in monthly reinvestment. Some have said that this would be equivalent to about one additional 25-basis point increase to the Fed Funds rate, or one more additional tightening a year.
Ms. Yellen stated that the Fed will observe how things play out to determine how much of the balance sheet will remain. Multiple Fed governors, presidents, and former Chairman Ben Bernanke have signaled the Fed will need to maintain a balance sheet significantly higher than the pre-crisis level of approximately $800 billion. If you assume, as some Fed presidents have said, that $2 trillion is the right number, at $120 billion a year, it is a long way from $4.5 trillion to $2 trillion. The Fed essentially wants the taper to be something that operates in the background without the market really noticing it. They plan on doing this in conjunction with the gradual tightening of monetary policy through the Fed Funds rate. It will be interesting to see how that works.
I think that this plan has a real chance of success. However, I think the Fed is being a little too optimistic regarding its timing. The outlook for inflation has deteriorated quite a bit with lower for longer commodity prices and lack of wage growth. The fact that the unemployment rate continues to decline while wages remain sluggish and productivity is, to quote Chairwoman Yellen, "miserable" is very puzzling. The fact that we have a 4.3% unemployment rate and can barely achieve 2% GDP growth is a problem. As key industries weaken, such as the automotive sector, the historically long economic expansion we have experienced feels like it has the potential to run out of steam. The Fed did a great job this week communicating its plan for unwinding QE. I have felt, however, they are going to be sitting on their hands the rest of 2017 and maybe a good part of 2018. The endless highway will continue to roll on.
Member SIPC & FINRA. Advisory services offered through SWBC Investment Company, a Registered Investment Advisor.
Not for redistribution—SWBC may from time to time publish content in this blog and/or on this site that has been created by affiliated or unaffiliated contributors. These contributors may include SWBC employees, other financial advisors, third-party authors who are paid a fee by SWBC, or other parties. The content of such posts does not necessarily represent the actual views or opinions of SWBC or any of its officers, directors, or employees. The opinions expressed by guest bloggers and/or blog interviewees are strictly their own and do not necessarily represent those of SWBC. The information provided on this site is for general information only, and SWBC cannot and does not guarantee the accuracy, validity, timeliness or completeness of any information contained on this site. None of the information on this site, nor any opinion contained in any blog post or other content on this site, constitutes a solicitation or offer by SWBC or its affiliates to buy or sell any securities, futures, options or other financial instruments. Nothing on this site constitutes any investment advice or service. Financial advisory services are provided only to investors who become SWBC clients.