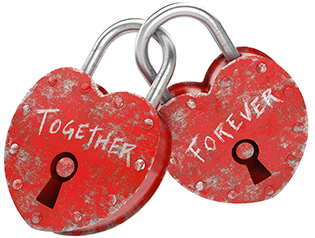 ​​​Retaining customers is a lot like dating—you reach a certain point, and the relationship either fizzles out or turns into something greater. If you want to keep your valuable customer relationships alive, here is some advice: stop casually dating them and, as Beyonce says, "put a ring on it."
Not sure how to do that? Here are ​six steps that will help you take your customer relationships to the next level.
​​Welcome them, make them wonder why they weren't always with your financial institution.

You may think you have this in the bag already, but are you sure—really, REALLY sure? Like, 100%? If you're even .01 ​percent uncertain about the impression you leave on new customers, do this: watch the day-to-day interactions between your employees and your customers. Are people welcomed when they come to your financial institution? Does your staff wait to be approached, or do they reach out to the customer proactively and in a friendly way? Yes, you are a financial institution, and most of your business is transactional. But, every conversation you have with your customers should include reassuring eye contact and a level of personality. To truely see if you're performing at an optimal level, a ​​good measuring stick is if they are referring you to their friends. Try a referral program, and ​track your results.

Communicate effectively, and keep the line of communication open and honest—always.

All great relationships are built on a foundation of effective, open, and honest communication, and as a financial institution, you have to do all of this AND make sure you are engaging customers at the right time and through the right channels. This may seem complicated—like it takes a ton of research done by various experts to get all the variables just right. ​And yes, that is one way of doing it. But, you can make it easier on yourself by simply ASK​​ING your customers how they would like to be communicated with and then following through with their preferred method.

No one feels good when after a great date, they tell the other person to call them and then end up never hearing from them again. Just the same, customers don't like it when they opt in for online banking and e-statements, only to get snail mail cluttering their mailbox​, or a website that is hard (or even impossible) to navigate. If you don't have a formal external communication plan, hire a firm today. Monthly newsletters are so 1990s! Content marketing via social media, blogs, email, etc. should be second nature to you by now! If content marketing via social media, blogs, email, etc. isn't currently a part of your communication strategy, start considering a way to integrate them because those are the channels where your customers are migrating." - Just a suggestion)

Make sure you are Geographically Desirable (GU).​​

My college roommate once broke up with a girl because she was​​​​n't GU, and it is an important thing to consider when picking a significant other, as well as a financial institution. Take a look at where you customers live, where they work, and where they play. Do you have branches nearby? Better yet, do you have ATMs nearby?

If the answer is no, then you may want to consider either moving or adding locations. The reason being that long-distance relationships don't work, and when they do, it's very rare.

Keep it in the family.

Okay, this may have given you the heebie jeebies since so far this post has been compared to romantic relationships, but please, hear me out! We all get how much hard it is for a customer to leave when they have savings, checking, credit cards, and loans with your financial institution. But, it's much harder for them to leave if you also have accounts with their children. How many times a year do you reach out to the next generation? Based on the amount of times I've heard institutions talk about issues capturing Gen Y, I'm guessing not very often. Ways you can get your customers' kids to like you (and open more accounts with you) include:

Supporting your local schools, colleges, and technical institutes. There are a ​variety of ways to do this. You could decorate your branches on game days to show your school spirit, help with fundraisers, offer scholarships, or donate monetary funds that will help improve a playground, cafeteria, gymnasium, etc.

Sponsoring events or teaching workshops that will help kids and young adults understand their finances. This gives your institution great exposure to these current and potential customers since you can interact with them face-to-face.To set your event up for success, you have to make sure they are in a good location that attendees are familiar with, otherwise, no one will attend. You also have to keep in mind that money and finances are topics that can get boring quick. Tailor your cur​riculum or talking points so that what you are teaching or saying is specific and relevant to your target audience.

Volunteering your time and services to things that are in line with what the youth in your town cares about.

Keep the relationship fresh and lively.

Like an unexpected bouquet of flowers on a non-holiday or breakfast in bed after a tough week at work, ensure your customers' expectations are exceeded by being an attentive, doting partner. Ongoing appreciation sends your customers a clear message and lets them know—without a doubt—that you value them and their business.

I'm not saying you need to buy all of your customers flowers or show up on their doorstep with doughnuts on a random Saturday (creepy!), but giving some sort of gift with no strings attached is a gesture your customers will appreciate. It could be something as simple as offering complementary mints, candy, or snacks at your branches​, or as elaborate as an emergency kit (branded with your logo of course) with a note inside that says "We care about the safety of you and your vehicle. Get an auto insurance quote today."

Keep customers interested in you.

My grandfather once told me the secret to his marriage was that Grandma kept his attention. According to him, my grandmother was the total package. She was smart, funny, caring, and easy on the eyes. Plus, she shared his values, goals, and interests. All of these things combined is what made my grandmother #1 in the eyes of my grandfather. And, as they got older, those attributes were what made that spark last throughout the years.

The lesson: when people truly have a partner who is the "total package," they don't look to see if the grass is greener somewhere else. And this is true for financial institutions, too. Your customers want you to be relatable, supportive, trustworthy, and reliable. To keep their business in today's world, you have to keep pace with changing trends, technological advances, and cultural shifts. And, you have to evolve WITH your customers over time, so that what you offer and how you offer it continues to meet their needs.

To figure out if you are your customer's total package, start by asking yourself this: Does "business as usual" look the same as it did five years ago? If the answer is yes, you probably have some work to do.