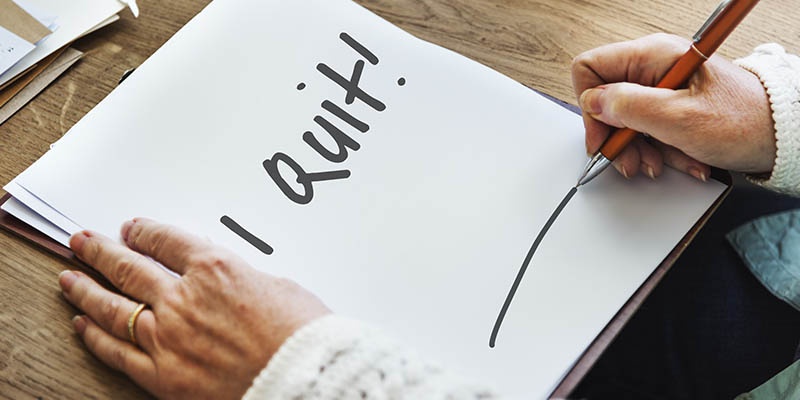 Friday's employment report was, on the surface, a mixed bag, with a surge in job growth coupled with lower than expected average hourly earnings (AHE) growth. Last month's 2.9% year-over-year growth in AHE was a shocker, as it showed that the growing strength of the U.S. economy was not only adding jobs, but workers were either finding better jobs or getting wage increases from their current employers. The February report —published Friday— showed a slight revision to January's AHE (2.8% from 2.9%) and a lower than expected, but still strong, 2.6% increase in February.
A report very closely watched by the Fed, the Labor Department's monthly "Job Openings and Labor Turnover Survey" (JOLT) report showed last month that workers voluntarily quitting their jobs (quit rate) because they were confident in finding new jobs increased to its highest level since January 2001. The report takes some time to compile, so it looks back two months (so February JOLT report uses December 2017 data). The next JOLT report comes out March 16. I think it will tell a similar tale as last month's report. This seems to be a nice progression for the labor market and the economy. First, we had strong job growth that brought workers back into the workforce; however, until recently, the jobs workers were returning to were relatively low paying, with few or no basic benefits. After the carnage of the "Great Recession," many Americans were just happy to have a job. Maybe happy isn't quite the right word, but it certainly can be said that workers were hanging on to their jobs for dear life. Now, as the demand for labor has continued to be strong, workers have begun to be able to at least partially dictate wages and benefit packages. This is a good thing.
From the Fed's perspective, the strongest element of inflation is wage inflation. The Fed wants what it would consider to be positive inflation, as that drives demand and economic growth—a virtuous cycle. However, getting inflation "just right" is like landing a plane on an aircraft carrier at dusk in choppy waters; it takes a lot of skill and a good degree of luck. I think that regardless of the lower than expected AHE from the latest employment report, if the Fed sees the JOLT quitting rate is the same or higher than the last report, they will really start pressing the issue for four Fed Fund hikes this year.
What can derail this impressive growth story? Some say a global trade war set off by the U.S. slapping tariffs on imported aluminum and steel could retard the synchronized global economic growth as our trading partners retaliate with tariffs of their own on our goods. The only positive I see is the European Union said they will slap a tariff on bourbon whiskey. Personally, I think too much of this vital resource has gone overseas and will be happy to have it back. Seriously though, I think that the White House has made a bold and public move and now will negotiate some concessions out of our trading partners. Many times, as we have seen with politicians from every party, the "concessions" they get will sound a lot better and stronger than they really are. As long as both sides can walk away saving face, they are happy. I don't think a global trade war is in the cards, and I do believe that NAFTA will remain mostly intact. Economics drive politics, and if the White House and Republican leadership in Congress can show, as we get toward mid-term elections, that the economy is cooking and they were able to better our global trading position, they may come out in pretty good shape.
The only thing I see slowing things down would be the Fed. The way I look at it is, will four 25 basis point rate hikes in 2018 (or even three) increase consumer finance rates enough to counter the increasing wealth of the consumer and confidence to borrow and spend? For the first time since 2008, money market rates actually aren't downright insulting! Therefore, for the first time in nearly ten years, banks, credit unions, and consumer finance companies are seeing a significant rise in the rates they are borrowing at. With margins already thin, they have to pass that on to their borrowers. In my mind, especially in the auto sector, consumer balance sheets have to improve to afford higher borrowing rates. Many of us have cringed at the practice of extending the term of auto loans from five years to seven years at greater than 100% loan to value (LTV). I don't see how you can get much looser than that. Therefore, consumers need to be able to afford the higher payments, whether they lease or loan. Let's hope they can and let's keep an eye out for the J.O.L.T. report this Friday. If the quit rate stays the same or moves higher, the Fed will be increasing rates four times in 2018.
Member SIPC & FINRA. Advisory services offered through SWBC Investment Company, a Registered Investment Advisor.
Not for redistribution—SWBC may from time to time publish content in this blog and/or on this site that has been created by affiliated or unaffiliated contributors. These contributors may include SWBC employees, other financial advisors, third-party authors who are paid a fee by SWBC, or other parties. The content of such posts does not necessarily represent the actual views or opinions of SWBC or any of its officers, directors, or employees. The opinions expressed by guest bloggers and/or blog interviewees are strictly their own and do not necessarily represent those of SWBC. The information provided on this site is for general information only, and SWBC cannot and does not guarantee the accuracy, validity, timeliness or completeness of any information contained on this site. None of the information on this site, nor any opinion contained in any blog post or other content on this site, constitutes a solicitation or offer by SWBC or its affiliates to buy or sell any securities, futures, options or other financial instruments. Nothing on this site constitutes any investment advice or service. Financial advisory services are provided only to investors who become SWBC clients.