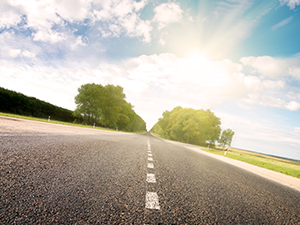 Richard Nixon is known for numerous controversies during his presidency, but Nixon's cabinet pick for the Secretary of Agriculture during the 70's, Earl "Rusty" Butz, may have perhaps been one of his greatest unknown legacies. Mr. Butz was a former Dean Emeritus at Purdue University and was a staunch proponent of large agribusiness companies such as Arthur Midland Daniels, Stokely-Van Camp, and Ralston Purina. He was largely responsible for the reversal of many of Roosevelt's New Deal policies that favored the small farmer, and he was the primary architect of the large corporate farm system – an industry that dominates the agricultural landscape even today.
The impact the Great Depression had on American agriculture during the 1930s was remarkable. Huge grain supplies, wide-spread hunger, and the all too frequent failure of the family farm were an extraordinary trifecta that threatened to destroy the nation's bread basket.
Consequently, Roosevelt's Administration instituted mechanisms that were meant to help farmers manage supply and demand. The government introduced a Keynesian policy that paid and encouraged farmers to leave some of their land fallow by not planting, hence driving up prices during the following season. And, if prices went too high, the government stopped the federal subsidies to encourage re-cultivation. The government would also buy excess grain from farmers and created a federal reserve that could be used to further manipulate prices.
Butz viewed this policy as big government getting in the way of capitalism, and essentially, he created an environment that encouraged as much production as possible. He began an aggressive trade policy with other nations to purchase excess output, which in theory would balance production and price. Emphatic rhetoric came from Butz' s USDA office – "plant fence row to fence row," and "get big or get out" were the mantras of the decade.
What does this history lesson have to do with auto lending?
Okay, most of you know that I am a financial services executive and probably wondering what this bit of history has to do with our industry. But, what you may not know is that I come from a family of farmers and remember my Grandfather struggling mightily with Butz's policy shift. After all, we only had about 500 tillable acres which certainly did not satisfy Butz' s definition of "BIG."
So here's my point – there is a parallel between the farmers' "get big or get out" struggle and the financial institution auto lending crisis. Yes, I used the word crisis because as a service provider to the financial institution community, we follow the dynamics of nearly 4 million auto loans and see little to no growth. In some instances, we've seen auto loan portfolios that have shrunk by as much as 50%.
Why has this happened? Well, it's hard to compete when money's cheap and competition is aggressive. Who would have ever thought we would see a 1.99% auto loan?
This is a time when aggressive and proactive should be keywords in your growth strategy. And, the following should be commonplace at your institution in order to meet your goals:
Regular loan recapture campaigns

Compelling product offerings and differentiators

Quick turnaround on loan decisions

Funding and post origination marketing
It also may be time for you to look for outside partners to assist you with managing these campaigns and administration if the current staffing model is preventing you from pursuing strategy beyond the day-to-day running of the business.
I strongly believe that the small and mid-sized financial institution market can survive and thrive in today's world, and I know we are all talking about change. But, the phone is not going to start ringing off the hook if we don't take action. I'm not so sure the "get big or get out" strategy is the best course for the industry as a whole either. After all, we saw what happened in the "too big to fail" world, and consumers continue to seek out high-touch personal service more than ever. Ironically, Butz's policies led to the worst soil erosion problems seen since the Dust Bowl. Only through massive government intervention in the mid-1980s were the problems addressed.
Even a casual farmer knows that you can't plant the same crop on the same land year after year or else you experience soil erosion. But what about those of us that followed the tried and true methods of the small family farmer? Well, those 500 acres in the rolling flint hills of Kansas are producing well and with some small changes we are doing just fine. That's why with a little bit of fine-tuning, I believe this industry will too!