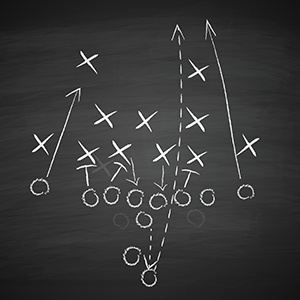 Another strong monthly payroll report was released this morning, with strong positive revisions from the prior month. The one caveat is the lack of wage inflation as the Average Hourly Earnings figure, month-over-month, was flat (actually rounded up to zero from a slight negative). That figure was expected to rise 0.2%, which is a pretty low bar to begin with. However, job growth continues to be impressive.
Furthermore, I have been traveling the country quite a bit, talking to people in all sorts of trades and businesses and, outside of many energy sectors, the mood is very upbeat. An owner of a large commercial roofing company in Pittsburgh (servicing the Ohio Valley) said, "after nearly having to shut my business down in 2013, this is the best market I have seen in over 25 years." A "Cracker" Plant that produces ethylene, the most commonly produced petrochemical for use in plastics, resins, adhesives, and synthetic products, is planned to be built in Western Pennsylvania. The infrastructure being built around this plant is, in his words, a "generational employment event." Therefore, you have to imagine at some point, wage inflation should pick up to where the Fed wants it. I'm just not sure that it is this year!
Things are looking good in the USA, even with the lack of wage inflation.
However, things are not looking good for the rest of the world. Two stories came out yesterday that were quite sobering. The first was reported on Reuters that senior policy advisors are calling on The People's Bank of China (PBOC) to let the Yuan depreciate 10-15%. That, in my opinion, would be a disaster. First, it shows that things in China are worse than we thought. The Chinese understand that this would spark a competitive devaluation war with their neighbors that could lead to a severe slowdown in the region's economic growth and, perhaps, throw it into a recession. This is important because Asia has been the leading region of economic growth since the 1960s! You just can't ignore it in the USA. Therefore, to me, this is a Hail Mary that only gets thrown if the economic and financial conditions in China are much worse than, at least I, thought.
Another thing to consider is: if the Chinese actually let the Yuan depreciate 10-15%, then as the second largest consumer of crude oil, which is valued in U.S. Dollars (USD), that is going to lead to a further deterioration in the price of crude, all things equal. Currently, we are bouncing around a 12-year low, so this is not a "technical" the commodity needs. Finally, not directly related to crude, is Japanese monetary policy. Instability in China has already led to a rise in the Japanese Yen against the USD of 4%. Against other major trading partners and Asian competitors, the Yen is up 8-10% in the same time period (up 8.2% against the Korean Won as an example). The Bank of Japan has their policy meeting January 29, and they are not going to be happy with the Yen here, let alone stronger if the Chinese go ahead with their devaluation. That could lead to more monetary easing and stimulus, which makes things for the FED trickier.
The second story was that the Saudis are seriously thinking of selling a piece of their national oil company, Saudi Aramco. I said in a piece back in early October that the Saudis were going to start having serious fiscal problems if oil stayed under $60 a barrel for too long. Now, it is under $40! They played a terrible hand by pumping away, and now there's a price to pay. There's a ton of news stories out there about how nasty things are getting in the Kingdom as oil revenue declines precipitously. You know it is bad when they are talking about selling a piece of Aramco. However, think about this: the Kingdom has a few choices.
They can borrow in the debt markets; they can devalue their currency; they can cut production; or they can raise money by selling some of Aramco. They haven't done the first two and now, with their arch enemy Iran needing to raise money by selling oil, there's no way they are cutting production. Therefore, if they raise money by either selling Aramco, or even by issuing debt, they are essentially funding their crude production dual with the rest of the world for a potentially long period of time. And, if they keep pumping, crude can just keep on dropping.
My constant theme remains, "No recovery in crude and industrial commodities means inflation well below the Fed's target, continued decline in global growth, and a very tough environment for the Fed to raise rates in 2016."
SWBC may from time to time publish content in this blog and/or on this site that has been created by affiliated or unaffiliated contributors. These contributors may include SWBC employees, other financial advisors, third-party authors who are paid a fee by SWBC, or other parties. The content of such posts does not necessarily represent the actual views or opinions of SWBC or any of its officers, directors, or employees. The opinions expressed by guest bloggers and/or blog interviewees are strictly their own and do not necessarily represent those of SWBC. The information provided on this site is for general information only, and SWBC cannot and does not guarantee the accuracy, validity, timeliness or completeness of any information contained on this site. None of the information on this site, nor any opinion contained in any blog post or other content on this site, constitutes a solicitation or offer by SWBC or its affiliates to buy or sell any securities, futures, options or other financial instruments. Nothing on this site constitutes any investment advice or service. Financial advisory services are provided only to investors who become SWBC clients.