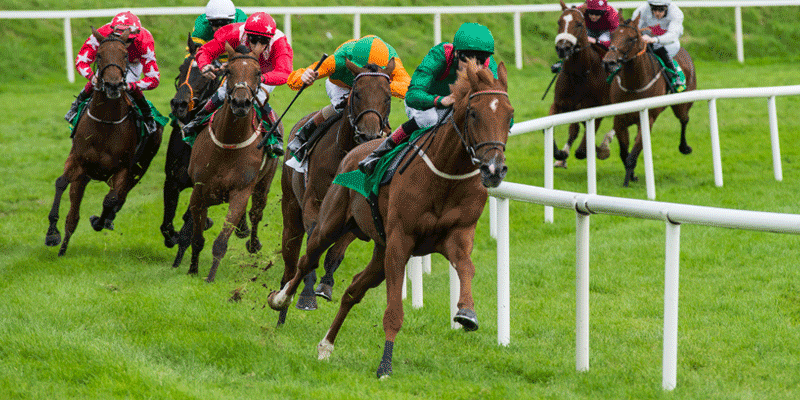 One of my favorite movies is The Sting starring Robert Redford, Paul Newman, and Robert Shaw. The story takes place in 1930s Chicago. Redford and Newman are two expert conmen, and their mark is ruthless Chicago crime boss Doyle Lonnegan, played by Robert Shaw. The game that they use against Lonnegan is called "The Wire." Redford and Newman set up a high-class betting parlor where men of means come to wager on horse races around the country.
Since this was the age before television and mass cross-country radio, races were called live by a person in a back room getting second-by-second updates on the telegraph wire and calling the race for the betting patrons. While legitimate parlors were established all over the country, in the case of The Sting, it's quite the opposite. They are, at discrete times, calling races that happened minutes ago or actually calling races where they change the results! By altering the outcome, the guy in the wire room is essentially calling out a race that doesn't exist!
I was reminded of this whole movie scenario after the British Financial Conduct Authority's (FCA) stunning announcement that LIBOR would cease to exist by 2021. The FCA made this decision when its head, Andrew Bailey, stated, "The absence of active underlying markets raises a serious question about the sustainability of the LIBOR benchmarks. If an active market does not exist, how can even the best run benchmark measure it?" My reaction to Mr. Bailey's revelation makes me wonder just what the heck have submitters of LIBOR been doing for at least the last five, if not 20, years?
As a refresher, LIBOR stands for London Interbank Offered Rate. This was the rate at which large global banks would lend U.S. dollars (USD) to each other on an unsecured basis for terms anywhere from one month to one year. LIBOR is a reference rate for a large chunk of just about any fixed income instrument denominated in USD that you could think of: home loans, commercial real estate loans, corporate loans, consumer loans, and of course popular interest rates derivatives such as interest rate swaps and options. Roughly $350 trillion of financial cash flows rely on LIBOR in one way, shape, or form.
The inconvenient truth is, as Mr. Bailey stated, LIBOR is not supported by the very market that is supposed to determine the number because there is no existing market! LIBOR is simply a fabricated rate, and if you look closely, has been so for at least two decades. There are 252 business days in a year, which means for at least 5,040 days, the 18-20 submitting banks were offering rates that were based on a market that did not exist, to an entity (BBA and then ICE) that knew as much. These rates were then published promptly every day and used in perhaps millions of financial transactions every day.
Here is an example of why I believe LIBOR has been a made-up rate for a very long time. I reviewed where the three-month LIBOR posted every day from January 2000 to January 2006 (pre-crisis), versus the yield on a three-month Treasury-Bill on the same days. The average differential between the three-month LIBOR and U.S. three-month Treasury bill yield was 30 basis points. If you consider that risk-based capital rules assign a risk weighting (the amount of capital that must be held against an asset on the balance sheet) from 0% and 100%, Treasury bills require 0%, and a three-month unsecured loan to a well-rated bank requires 20%, a 30-basis-point yield differential between the two is ridiculous. A 30-basis-point yield differential on $100,000,000 for there months equates to $75,000. T-bills require zero capital, while a three-month unsecured inter-bank loan requires 20% or $20 million of capital. If you assume a cost of capital rate of 6% (which is probably too low for the period in question), that equates to a $300,000 cost to make the inter-bank loan. Therefore, if the bank lent to another bank unsecured for three months, as opposed to buying a three-month T-bill for only a 30-basis-point yield differential, the bank would be losing $225,000 on the transaction. LIBOR, as submitted and reported, was just too low. Bearing in mind that LIBOR-submitting banks were also issuing floating rate debt and variable rate preferred tied to LIBOR, there is, in my opinion, a big problem. The same division at the bank that was submitting LIBOR was also responsible for funding the bank.
Market participants have begun to assess the magnitude of what the disappearance of LIBOR will mean for them. What do you do with assets or liabilities or derivative transactions that reference LIBOR past 2021? Moreover, what do you do about the situation I presented above? If LIBOR has been suppressed, perhaps intentionally, for at least a decade (if not two), what are entities like short duration mutual funds going to do if they come to the same conclusion I did?
The problem is so big, we can be forgiven for a degree of cognitive dissonance, but just remember the following. You can still go to your bank or credit union today and get a mortgage that is fixed for seven years that then floats off of LIBOR thereafter! LIBOR is going away, but billions of dollars of financial transactions are still being done with a key input being LIBOR. This will be a Y2K event that actually happens! The problem with LIBOR will, in my opinion, have tremendous financial and economic implications that are currently not in our model. We better start putting it in.
Member SIPC & FINRA. Advisory services offered through SWBC Investment Company, a Registered Investment Advisor.
Not for redistribution—SWBC may from time to time publish content in this blog and/or on this site that has been created by affiliated or unaffiliated contributors. These contributors may include SWBC employees, other financial advisors, third-party authors who are paid a fee by SWBC, or other parties. The content of such posts does not necessarily represent the actual views or opinions of SWBC or any of its officers, directors, or employees. The opinions expressed by guest bloggers and/or blog interviewees are strictly their own and do not necessarily represent those of SWBC. The information provided on this site is for general information only, and SWBC cannot and does not guarantee the accuracy, validity, timeliness or completeness of any information contained on this site. None of the information on this site, nor any opinion contained in any blog post or other content on this site, constitutes a solicitation or offer by SWBC or its affiliates to buy or sell any securities, futures, options or other financial instruments. Nothing on this site constitutes any investment advice or service. Financial advisory services are provided only to investors who become SWBC clients.