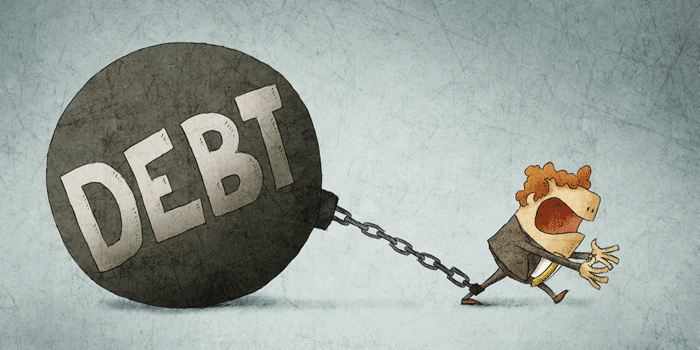 "There is scarcely anything that drags a person down like debt"—P.T. Barnum
For quite some time now, economists, including prominent members of the Federal Reserve, have been bemoaning the fact that as the labor markets in the United States continue to steadily add jobs and drive down the unemployment rate (and to a lesser degree the underemployment rate), economic growth continues to be relatively weak. The variable that falls out of this equation is labor productivity. As Federal Reserve Chairwoman Janet Yellen has stated throughout her tenure at the helm of the Fed, labor productivity has been "miserable." However, the explosion of consumer debt may be masking the possibility that productivity is even more miserable than meets the eye. At some point, too much debt exaggerates economic growth. Yesterday, Bloomberg News came out with this article: "In Debt We Trust for U.S. Consumers with $12.7 Trillion Burden."
To put $12.7 trillion of consumer debt into perspective, the article states cites that $12.7 trillion is roughly the size of China's entire economy and four times the size of Germany's economy. Consumer debt has risen steadily under Ms. Yellen's tenure and is now past the peak it hit just prior to the global financial grisis. The pattern seems pretty clear: increasing debt, starting from a relatively low level, provides a substantial boost to economic growth. The ability of the United States to distribute credit and capital more efficiently than any other economy on the planet shows that we can supercharge not only the U.S. economy, but the global economy.
However, at a certain point, increasing debt levels reach a tipping point for a large majority of consumers. At this point, which I feel we reached sometime in 2014–2016, increasing consumer debt starts sending false positives for economic growth. Is it really economic growth when consumers are essentially stuffed into more car than they can afford, paying higher tuition for a higher education that doesn't necessarily lead to a lucrative job, and "holiday" or "season's greetings" loans that are just pretty silly? Back in the day, if you walked into a financial institution looking for a $3,000 loan, unsecured, to take the family to Disney World, the financial institution would laugh at you. Now, they market these loans to the public!
Unfortunately, it appears we have hit the point when, according to Bloomberg, "People are borrowing more not necessarily because they are confident about their financial prospects. They're doing it for necessities like education or transportation and, in many cases, just to get by." I think this is leading to things such as increasing consumer delinquencies, higher financial institution loan charge offs, and slowing auto sales. Things have a way of evening out. I think there's a very good chance that what has become excessive consumer leverage starts to deleverage. Moreover, as many U.S. companies have prospered from this leverage and have borrowed substantially themselves, we could be in line for another painful round of deleveraging. Incidentally, there's another entity that has leveraged itself up to dangerous levels: the United States government.
If you adjust for a level of economic growth that came about due to consumer borrowing, crossing the tipping point from positive to negative, our labor productivity readings over the past two to three years are even more miserable than Chairwoman Yellen thought. Factors like this reinforce my belief that the Fed will be on hold for a long time.
Member SIPC & FINRA. Advisory services offered through SWBC Investment Company, a Registered Investment Advisor.
Not for redistribution—SWBC may from time to time publish content in this blog and/or on this site that has been created by affiliated or unaffiliated contributors. These contributors may include SWBC employees, other financial advisors, third-party authors who are paid a fee by SWBC, or other parties. The content of such posts does not necessarily represent the actual views or opinions of SWBC or any of its officers, directors, or employees. The opinions expressed by guest bloggers and/or blog interviewees are strictly their own and do not necessarily represent those of SWBC. The information provided on this site is for general information only, and SWBC cannot and does not guarantee the accuracy, validity, timeliness or completeness of any information contained on this site. None of the information on this site, nor any opinion contained in any blog post or other content on this site, constitutes a solicitation or offer by SWBC or its affiliates to buy or sell any securities, futures, options or other financial instruments. Nothing on this site constitutes any investment advice or service. Financial advisory services are provided only to investors who become SWBC clients.