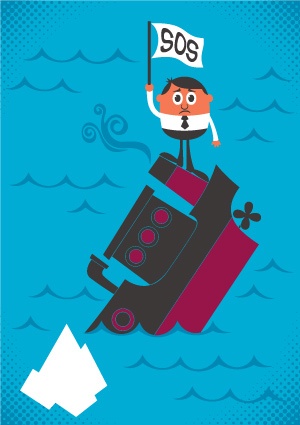 Bank of Canada Chairman, Stephen Poloz, had one of those, "Want to get away?" moments last week as he found himself between a rock and a hard place. Wednesday morning, the Bank of Canada (BOC) decided against cutting its Overnight Lending Rate from 50 basis points to 25 basis points.
Many in the markets were surprised by this decision. After all, the Canadian economy, heavily reliant on the export of energy and industrial metal commodities, has been reeling for over a year. As the price of these commodities has done nothing but plunge further in the first weeks of 2016, we can only imagine that things for our northern neighbors are getting worse. The BOC had already cut rates by 50 basis points in 2015, in response to its sharp economic slowdown. There's a simple reason why they didn't ease; it's because they couldn't.
What forced the BOC's very uncomfortable decision this week is a direct result of the Federal Reserve's very public insistence to "normalize monetary policy," which began last October. Commodity based countries are falling into deep recessions and with their currencies plummeting against the USD, they are forced to either do what Canada had to do (nothing) or actually tighten (as in the case of Mexico and Chile last month) monetary policy in the face of recession. To put it into perspective, stagflation would be terrible for the USA, the biggest economy in the world. For Chile, Mexico, or any other emerging market economy, it is devastating.
It is not all the Fed's fault.
The Fed didn't make China drive their economy into a ditch. The Fed didn't make The European Union careen from one poor decision to the next. The Fed didn't force the Saudis to pump themselves potentially back to the 1930s. However, the Fed's constant presence, either on CNBC or Bloomberg T.V. or a seemingly endless string of public speaking engagements, has added napalm to the fire of "monetary policy divergence" that I believe is fast-tracking the global economy into a very bad place. Consider San Francisco Federal Reserve President John Williams' comments on CNBC January 5 regarding monetary policy in 2016, "I think something in that three to five rate-hike range makes sense, at least at this time."
President Williams sounded like he was talking about something casual, like tomorrow's weather! What is he doing saying that anywhere public, especially in times such as these? These are very smart people. However, do they realize that people listen to them very closely? And, once they say it, the proverbial toothpaste is out of the tube. You can't put it back.
If the Fed is on the T.V. saying they are going to hike rates, potentially five times this year, and every one of our trading partners is going in the other direction, there's a trade or two to do right? You buy the USD and short the other currencies, like the Canadian Dollar, the Mexican Peso, and even the Hong Kong Dollar! These trades take on lives of their own, like a virus. The Fed surely knows that emerging markets are in the same position they were in back in 1997–98. They owe U.S. Dollars. The cost of their debt goes up with the USD. Supposedly, it was going to be different this time because those countries were earning U.S. Dollars selling oil and industrial commodities. Since June 2015, the Commodity Research Bureau Index (CRB) is down 29%. So, that strategy isn't working out as planned.
I think that the U.S. economy is still fine. However, having lived through 1997–1998 and, of course, 2007–2008, risk assets are not fine. One thing to remember is when crises of this magnitude hit, liquidity goes to zero and investors sell what they can sell to reduce risk. You can't sell your high-yield energy bonds? You sell S&P and Crude Futures. You're leveraged and some guy named margin keeps calling? You sell what is liquid. The only thing wrong with the blue-chip stock or high-grade corporate bond getting sold is that it was liquid enough to sell! I heard a manager of a very big global equity fund say yesterday that "Gloom has gone too far." To me, it isn't gloom; it is reality if we go back to the 1997-1998 scenario. It's not a time to be a hero.
The Federal Open Market Committee (FOMC) meets next week. I know they won't do it, but the only way to, at least, partially reverse the psychology gripping the market is for the Fed to publically change course. It's not enough for guys like me to have a "very strong feeling" that the Fed isn't going to raise rates in 2016, or Fed Fund Futures to imply that there's about a 65% probability they'll raise ONCE in all of 2016. Until the Fed comes to grips that it has made a policy mistake, I don't think anything gets better. I don't really think the ECB expanding their Quantitative Easing program, or moving their deposit rate from negative 30 basis points to negative 40 basis points is going to do very much. The Bank of Japan meets January 29. I imagine they will add stimulus in some form, but that is really just more of the same in my opinion. Their main concern will be weakening the Yen and joining Asia's competitive devaluation party.
So, I continue to like duration. There's going to be plenty of days like Thursday and today where we get dead cat bounces or even a sharp bear market rallies in crude oil (like we are having this morning), which tends to take stocks up and bonds down. I think these are great opportunities to buy dips. The long end of the curve has had a good run. I am not sure we get much past 1.95% on 10-years. I think we need to see a pull back to 2.10% before buying there. I like buying 2-years 87–88 basis points or better, and I like 5-years at 1.50%. For our depository clients, I really think your core deposits are safe, and I would imagine they will continue to grow as much as you want them to in 2016. So, plenty of time for those core deposit decay studies!
SWBC may from time to time publish content in this blog and/or on this site that has been created by affiliated or unaffiliated contributors. These contributors may include SWBC employees, other financial advisors, third-party authors who are paid a fee by SWBC, or other parties. The content of such posts does not necessarily represent the actual views or opinions of SWBC or any of its officers, directors, or employees. The opinions expressed by guest bloggers and/or blog interviewees are strictly their own and do not necessarily represent those of SWBC. The information provided on this site is for general information only, and SWBC cannot and does not guarantee the accuracy, validity, timeliness or completeness of any information contained on this site. None of the information on this site, nor any opinion contained in any blog post or other content on this site, constitutes a solicitation or offer by SWBC or its affiliates to buy or sell any securities, futures, options or other financial instruments. Nothing on this site constitutes any investment advice or service. Financial advisory services are provided only to investors who become SWBC clients.