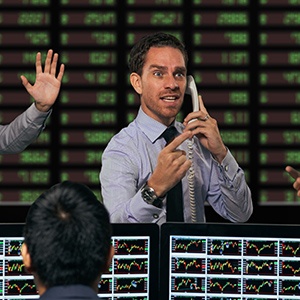 I'd like to take some time to explain the absolute carnage we witnessed Thursday where seemingly every financial asset with a U.S. Dollar (USD) attached to it was beaten to a pulp. While it certainly felt like it, I think yesterday was not a repudiation of the USD. Rather, it was an event that I would describe as a proprietary trading event that will, in time, be erased. While not as extreme as the infamous "Flash Rally" that occurred Oct. 15, 2014, in the Treasury market, many of the same things that drove that insane price action happened yesterday.
It is very important to discern the difference between a real sea-change of investor sentiment and relative value, and the types of violent price action that have now become a somewhat regular occurrence in the world of proprietary trading. I would like to tell a story, or a good guess if you will, of what would have happened to a proprietary trader, long USD (and USD assets) versus the Euro yesterday. Imagine yourself as the trader.
Early yesterday morning, you and thousands of your closest friends were short the Euro, long the USD as well as long USD assets like U.S. Treasury Bonds, corporate bonds, and stocks. The short Euro/USD had become what is known as a very crowded trade. Right now, it is the most crowded trade in the world. Up until yesterday morning, everything had been going fantastic for that trade. The Euro was dropping like a stone and USD bonds and equities were rallying. All was going as planned. Now, it was the big day. The European Central Bank (ECB) was going to announce significant additional monetary stimulus in the form of a deposit rate cut and expansion of their Quantitative Easing (QE) program.
All expectations were that it was going to be big. ECB President Draghi had been strongly hinting at it since the last ECB meeting in October of this year. At 7:30 a.m., the Euro had sunk to a local low of 1.052. At 7:45 a.m., the ECB would announce a big rate cut, and then at 8:30 a.m. they would announce their Quantitative Easing expansion, the Euro would crash, trading profits would soar and it would be a merry Christmas, indeed.
Suddenly at 7:38 a.m., this headline came across everyone's Bloomberg: "ECB LEAVES RATES UNCHANGED IN SHOCK DECISION—Financial Times." You think, "What? It's not 7:45 a.m. and what the heck is the Financial Times doing 'tweeting' that?" However, before that thought even makes its way through your brain, electronic trading systems have digested this "news" and have started buying Euros. The Euro has gone from 1.05 to 1.07 in seconds. Stop out orders (orders that traders short Euro have left with brokers to cover their short positions by buying Euros back if the Euro hits a certain level) are getting tripped and more buying ensues.
The Financial Times issues an apology two minutes later; the message was incorrect and shouldn't have been sent. The damage is already done, though. The markets are spooked and confused. At 7:45 a.m., the ECB announces a 10 basis point rate cut for their deposit rate. Many were expecting a 20 basis point cut, and things are so skittish and negative now that the Euro keeps rising. Now U.S. Treasuries are beginning to get hit along with stocks. Finally at 8:30 a.m., ECB President Draghi announces that the ECB will extend its QE program six months (until March 2017), but will not at this time increase the monthly purchase amounts (now 60 billion Euro a month). The market was expecting more; the rout is on;the Euro explodes to 1.09; and USD assets are pummeled.
By the end of the day, the 10-year U.S. Treasury note is down over a point while the 30-year bond is down three points. U.S. stocks are down approximately 1.5% and the Bloomberg Dollar Index is down approximately 3%. Your beautiful trade lies in ruins. Most likely, you were forced to stop yourself out of the trade before noon. There will be no "G.I. Joe with the Kung Fu grip" for the kids this Christmas.
So, what really happened yesterday?
The price action showed the classic reaction to when traders are in a very crowded trade that suddenly gets thrown a curve ball. Because of electronic trading and a significant decline in overall liquidity, large moves feed on momentum and do not have the natural speed bumps and guard rails that used to exist in the markets. Ten to 15 years ago, the big macro hedge funds and large proprietary trading operations and dealer desks with lots of risk license used to come in to a market move that was clearly overdone, like the one today, and begin to take the other side of the trade.
In this instance, they would have started selling the Euro and/or buying U.S. Treasuries, thus slowing things down and bringing a semblance of sanity to the price action. These entities really do not exist anymore. All that is left are diminished (and fewer) bank dealer desks with reduced risk license and capital. They have no incentive to be heroes anymore. In fact, they have probably spent the morning getting lit up by High Frequency hedge funds before they could turn their auto-quote programs off. So, big market moves like today just build momentum with nothing to stand in its way. These market moves have really become like tsunamis. They stop on their own accord.
The take away, in my opinion, is the ECB, certainly, under-delivered. However, the market reacted as if they did nothing and then said they are on hold for 2016. One could extrapolate that thought to surmise that an ECB on hold frees the Fed up to raise rates more aggressively, which could explain some of the carnage in stocks and Treasuries. However, the ECB did add stimulus, and they made very clear they will add more if it is needed. Moreover, there really hasn't been anything in the Eurozone that shows me that more stimulus won't be needed. Whether you agree or not that QE or negative rates is helping is another story. Those in charge call the shots, and these are the tools they have chosen to use.
My advice here is discount yesterday's outsized moves as they are the symptom of a flawed market place. I think the monetary divergence story between the ECB and the Fed is still intact. The Fed will go on December 16, and if anything, Thursday is a reminder to the Fed just how fragile risk markets are to anything that is not a measured and patient pace of further policy normalization. This morning's employment numbers were strong, but are in line with consensus. U.S. rates are selling off this morning off the data. However, I believe this is an overreaction. We have but a few real trading sessions left for 2016. While it will be choppy, the dust will settle. I still believe that 2016 will see lower long-term rates and a flatter U.S. Treasury yield curve.
SWBC may from time to time publish content in this blog and/or on this site that has been created by affiliated or unaffiliated contributors. These contributors may include SWBC employees, other financial advisors, third-party authors who are paid a fee by SWBC, or other parties. The content of such posts does not necessarily represent the actual views or opinions of SWBC or any of its officers, directors, or employees. The opinions expressed by guest bloggers and/or blog interviewees are strictly their own and do not necessarily represent those of SWBC. The information provided on this site is for general information only, and SWBC cannot and does not guarantee the accuracy, validity, timeliness or completeness of any information contained on this site. None of the information on this site, nor any opinion contained in any blog post or other content on this site, constitutes a solicitation or offer by SWBC or its affiliates to buy or sell any securities, futures, options or other financial instruments. Nothing on this site constitutes any investment advice or service. Financial advisory services are provided only to investors who become SWBC clients.