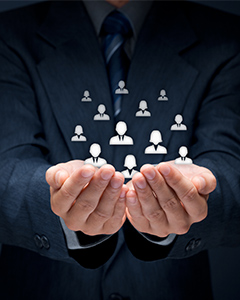 When a CPI policy is issued, the cost of the premium is passed on to the borrower until they can provide proof that they are insured. According to the Insurance Research Council, 13.8% of motorists were uninsured as of 2009.
By having CPI in your rolodex of products, you can protect your institution and your borrowers from a financial burden due to damage or loss of an uninsured or under-insured vehicle.
Since borrowers are required to maintain adequate insurance on the vehicle for the entire duration of the loan, ongoing verification—also known as insurance tracking—is required on each collateralized loan account. This can entail constant communication with the borrower, prompting them to obtain insurance, as well as communication with different insurance carriers in the marketplace.
Naturally, an institution would prefer to find the most competitive rates to save their borrowers and their institution the most money, while still providing adequate insurance coverage. Since the administrative tasks associated with offering CPI can be so time-consuming and potentially costly to handle in-house, many institutions choose to outsource their CPI operations to a third-party vendor such as SWBC. Outsourcing CPI allows a financial institution to leverage the technology, resources, and expertise of the third-party provider that specializes in that field and helps ensure that their assets are protected. It also helps save valuable time that their employees would normally be required to expend.
Some CPI providers can offer:
Communication with borrowers to verify and request insurance coverage if they are uninsured or under-insured

Access to a network of insurance carriers, as well as multiple rate and plan options

State-of-the-art technology that integrates with your core processor

Processing of claims and refunds
Click here to learn the three questions you should ask when looking for a CPI provider.
The benefits of offering CPI are far reaching and can provide peace of mind to your institution and your borrowers. If you'd like to learn more about CPI or how SWBC can help with your insurance placement and tracking needs, contact us today!