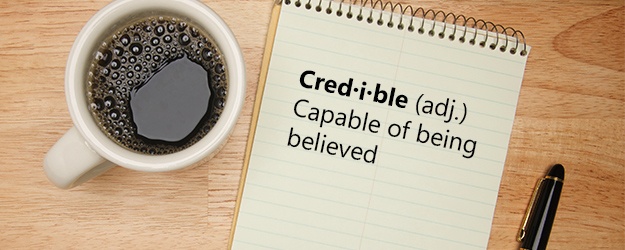 There is a distinct difference between maintaining one's credibility and pig-headed obstinance. History is littered with instances in which the quest to maintain credibility or "save face" has cost countless lives and treasure. Barbara Tuchman's Pulitzer Prize winning classic, The Guns of August documented what is perhaps the most terrible example of this phenomenon. The great nations of Europe slid into a war (World War I) that most of them really didn't want. However, in order to maintain their individual credibility, go to war they did, and the world has never been the same since.
On the brink of nuclear war, President John Kennedy was faced with a similar challenge during the Cuban Missile Crisis. The resolution that was offered by Soviet Union Premier Khrushchev required the U.S. to remove its Jupiter missiles from Turkey in exchange for the Soviets removing their missiles from Cuba. Nearly all of the President's advisors told him that if he made that deal, the U.S. would lose credibility with its allies. They basically said it would be better to blow up the world than to lose face. They urged the President not to make a deal even though everyone in the room knew that our Jupiter missiles in Turkey were obsolete and were scheduled to be removed in a few months. In fact, President Eisenhower said of the Jupiter missiles during his time in office, "It would be better to dump them in the ocean than dump them on our allies." Even though President Kennedy risked losing face, he took the deal. In the end, the world was saved, and the President benefited from the fact that the Soviets did not publicize that the U.S. had traded missiles in Turkey for missiles in Cuba.
This past Wednesday, the Federal Open Market Committee (FOMC), led by Chairwoman Yellen, had a choice to make. Though by no means as grave as World War I and the Cuban Missile Crisis, it was still very important and difficult. The FOMC was expected to point to a path of continued "monetary policy normalization" by stating that the balance of risks between growth and inflation was roughly equal. (The market's perceived green light for a rate hike as early as this June.) The market expected as much because this was the guidance the Federal Reserve (Fed) has been giving since last December. I have written many times that the Fed would be making a very big mistake if they followed through with their guidance. Policy divergence with the other major central banks of the world would be too great, the U.S. Dollar (USD) would become too strong, fragile financial markets would greatly suffer, and the U.S. economy—the only economy in the developed world where the growth story is real—would suffer as well.
Instead, the FOMC gave a very dovish statement, did not include the "balance of risks" comment, gave little acknowledgment to the latest rally in commodities and risk assets, and instead signaled that they would be very patient with policy, and very watchful of global economic and financial market events. Many pundits and market participants alike screamed that the Fed was "cowardly." In fact, at the post-statement press conference, Chairwoman Yellen was asked if she was worried that the Fed had lost credibility with this latest move.
I think the Fed gave serious consideration to the recent grim assessments given by the European Central Bank (ECB) and the Bank of Japan (BOJ) of their respective economies and combined these assessments with concerns that the U.S. economy, in the sixth year of an economic expansion, was in danger of stalling out as well. It seems the Fed is finally and rightfully giving focus to the crash in the energy sector and the effect of the strong USD on exports. Both of these factors have dealt body blows to the U.S. manufacturing sector. The economy moves in cycles, and in the sixth year of an expansion, the risk of the consumer pulling back or employers slowing the pace of hiring is real. Tighter monetary policy at this juncture was viewed by the Fed as too risky. I know that sounds pathetic given that Fed Funds are 38 basis points, but it is what it is. Therefore, the Fed has taken the slings and arrows and made what I think was the difficult, but correct, decision. For that, they should be commended. However, if they even mention Negative Interest Rate Policy, I will take that back!
Risk assets have been on a tear. I have previously written that I thought crude could get to $40 per barrel, and it has. That mighty recovery, even if I think it is short lived, has to be respected along with the investment flows into High Yield corporates (since February 11, the High Yield-Investment Grade Corporate spread has compressed a whopping 120 basis points) and global equities. All of these asset classes had very significant short positions that have been squeezed out. I am not saying that these squeezes are the sole reason for this risk asset recovery, but they added a lot of juice to the rallies. My eyes will continue to be on oil. I'd like to see how the commodity trades now that market positioning is long. Crude's recovery is largely based on the hope that a Russia-OPEC meeting in April caps production and actually allows the massive supply glut to lessen. I have grave doubts about this becoming a reality. Personally, I think if you have them, it is time to start taking winnings off the table.
As far as interest rates are concerned, I like the market here. I would be a buyer of the five-year at 1.36 and seven-year at 1.67 (their current levels). For our depository partners, short-term rates should remain at their low, current levels for the foreseeable future.
Member SIPC & FINRA. Advisory services offered through SWBC Investment Company, a Registered Investment Advisor.
- Not for redistribution -
SWBC may from time to time publish content in this blog and/or on this site that has been created by affiliated or unaffiliated contributors. These contributors may include SWBC employees, other financial advisors, third-party authors who are paid a fee by SWBC, or other parties. The content of such posts does not necessarily represent the actual views or opinions of SWBC or any of its officers, directors, or employees. The opinions expressed by guest bloggers and/or blog interviewees are strictly their own and do not necessarily represent those of SWBC. The information provided on this site is for general information only, and SWBC cannot and does not guarantee the accuracy, validity, timeliness or completeness of any information contained on this site. None of the information on this site, nor any opinion contained in any blog post or other content on this site, constitutes a solicitation or offer by SWBC or its affiliates to buy or sell any securities, futures, options or other financial instruments. Nothing on this site constitutes any investment advice or service. Financial advisory services are provided only to investors who become SWBC clients.