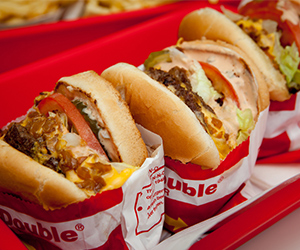 "Double Double (Animal Style)" by photoskate
CC BY 2.0 (cropped)
Fees—we hate them as consumers, but in business, we utilize them for many reasons. What is the purpose for them? Is it to cover expenses? Used to deter behavior? Or, is it a source of income?
When meeting with clients, I am often asked how much other financial institutions charge for the same product or service. The answer is, it ranges from one end of the spectrum to the other.
The amount you charge is a derivative of the message you want to convey in the market and your institution's values—so there is no finite number or best practices. However, there are some regional trends that can help you decide whether to cover the fees or pass them along to the consumer.
For example, in the southeastern region, consumers accept that financial institutions charge fees for checking and savings accounts because those fees are often offset by "complimentary" products and services. A savings account may come with free identity theft protection or accidental death and dismemberment coverage. However, in the Midwest, "free checking" is the norm and has come to be expected. Because there are no fees charged for checking accounts, consumers must purchase additional products and services separately.
Managing the fees you decide to charge is a way for you to control your customers' behavior. During the collections process, you may choose to waive fees to encourage borrowers to make payments. To attract new customers, you may waive activation or first-month fees for checking and/or savings accounts. You may even charge more for a service if a customer gets assistance from your staff rather than self-serving, using that additional fee as income to cover operational expenses.
However you use fees, it's vital to figure out ways to lessen their impact on customers—or risk losing their business to someone else.
How does one lessen the impact of fees, you ask?
Get creative—REALLY creative! And, take inspiration from other businesses, whether they're in your industry or not. For example, I had a "light-bulb moment" a couple of weeks ago when I had lunch at an In-N-Out Burger in California. Here's what happened:
As you may know, In-N-Out's menu is simple. You can get a hamburger, a cheeseburger, or a double cheeseburger, along with fries, a milkshake, and/or a beverage—that's it. However, after ordering, I noticed others around me had cheese, grilled onions, and In-N-Out sauce on their fries. Others had chilies, onions, and three or four patties on their burgers. I even saw one kid with a root beer float!
I looked at the menu again and didn't see any of it!
What I didn't know is that In-N-Out Burger has a "not-so-secret menu" found only on their site. Plus, they have an even more secret menu that can only be found by doing some additional digging online or by asking die-hard In-N-Out customers. Those who are in-the-know use secret phrases or code names to get their "mustard-grilled" "2x4" with chopped chilies, "flying Dutchman", or "well-done," "animal-style" fries. (And yes, In-N-Out employees do understand these code names—even for items on the more "super-secret" menu.)
This little game they let customers play heightens interest, creates repeat customers, and deepens brand loyalty because those in-the-know feel like insiders—like they are a part of an elite brotherhood of burgers!
The brilliant idea I got from my In-N-Out visit was that financial institutions could create this same sort of experience with fees.
By thinking outside the box, you could come up with creative ways to waive fees for those customers who are in-the-know and interact most with your institution. This type of offering improves the the customer experience (because they feel like an insider and get the benefit of fees being waived) and allows you to still charge fees to cover operating expenses, or whatever you choose.
Some examples of how this could work are below:
Without advertising, print coupons for a year of free checking on the backside of ATM receipts so people feel like they've found the golden ticket when they happen to get one.

Tell new customers upfront (and only once) that you have an annual promotion where anyone who uses the code "Fee-free" during the month of August—either online as a promo code or in person—gets checking account fees waived for the next 12 months.

Hide coupons to waive one ATM fee all around town and have a geocaching event or scavenger hunt where you give clues to their locations via Facebook and/or Twitter.

Have your marketing team tweet that the first 10 people who call in with a secret password or promo code get free checking for a year.

Ask trivia questions on your Facebook and Twitter pages and give 12 months of free identity theft protection to those who answer correctly.

Hold a contest at the annual meeting where you draw a number out of a hat and offer no late fees for 12 months to all accounts ending in that particular number.
These six ideas are a great starting off point, but in reality, the number of campaigns/promotions you can create is endless. Remember to think outside the box, and take inspiration from other companies that are successfully running similar programs or campaigns. Successfully implementing this type of strategy will drive attention to your institution, help achieve your goals for including fees, and help make fees more acceptable—and maybe even fun—for your customers.