Reuters News reported.
In remarks prepared for a New York University financial conference, Jerome Powell, Federal Reserve governor, said this Libor doomsday scenario must be avoided considering that there are now "$150 trillion in outstanding U.S. dollar Libor contracts," to end Libor, a benchmark lending rate used for everything from mortgages to interest-rate swaps, would be a "protracted, expensive and uncertain process," warned Powell. The U.S. Federal Reserve will accelerate its search for a substitute to the Libor benchmark interest rate to stave off what would be "a horrible mess" if the current system collapses with no alternative, Fed Governor Jerome Powell said on Thursday.
These remarks from Jerome Powell were not made yesterday or last week, nor were made last month or even last year. Would you believe they were made in 2014? In 2014 the United States Alternative Rates Committee or, ARRC was formed to begin the "accelerated search" for a Libor replacement. The 18 Libor panel banks and regulators met every month from 2014 on. They set a deadline to introduce a Libor replacement by the end of 2015. It appears the only thing that ARRC accomplished from early 2014 to mid-2017 was to push back the deadline on a finding a solution. Meanwhile, every day of every year financial instruments indexed to Libor grew and grew. Perhaps most troubling, no one, outside of a handful of people knew the truth. Libor was a made-up rate every single day. Finally, in July 2017 Libor was given a death sentence by Andrew Bailey, the head of the UK Financial Conduct Authority (FCA). Mr. Bailey stated at the time, "The absence of active underlying markets raises a serious question about the sustainability of the Libor benchmarks." If an active market does not exist, how can even the best run benchmark measure it? As we get closer and closer to Powell's "horrible mess" without a credible replacement for Libor, which itself hasn't been credible for at least a decade, there is a very real chance financial markets as well as commerce will suffer substantially. This is a Y2K event that is actually going to happen.
Many will say that they have found a replacement rate for Libor in the Secured Overnight Financing Rate or SOFR. However, SOFR is an overnight treasury funding rate index and is not an interbank term lending index. The underlying trades that SOFR relies on can be quite volatile as evidenced by the treasury funding squeeze that was witnessed in mid-September last year. The squeeze caused SOFR to spike from 2.43% to over 10% intra-day before settling at 5.25%, a mere 116% day over day increase. If the Fed had not intervened massively in the treasury repo market and decided to begin purchasing $60 billion treasuries a month, who knows where SOFR would be. This was a pure technical situation in the treasury funding market that had nothing to do with credit, or where banks would lend to one another. SOFR appears to be the wrong rate that, if not for Fed intervention to settle it down, would already be in the bin.
Even if SOFR was a perfectly good index to replace Libor and hence become the setting for the most actively traded futures on the planet, Eurodollar futures, to replace Libor with SOFR requires a spread to be added to account for credit risk premia. SOFR is collateralized while Libor is not.
The Wall Street Journal reported November 21, 2019,
CME hopes to keep that business alive by transforming its Eurodollar futures into similar contracts tied to SOFR – The new benchmark interest rate that Fed officials are pushing as a replacement for Libor. Under the CME's proposed plan, a formal declaration that Libor is dead would trigger the automatic conversion of all Eurodollar futures outstanding into SOFR futures, with a price adjustment between the two contracts.
This will be like trying to change a tire on a car that is speeding down the highway, and that is assuming that a proper spread to be added to SOFR futures is agreed upon. This brings me to the worst part of the story. Libor has been relying on the panel banks "expert judgment" for many years instead of real trades. What if that "expert judgment" was biased toward Libor rates being unreasonably too low?
Every day to submit USD Libor rates the bank's funding desk essentially answers the question, "At what rate could you borrow funds, were you to do so by asking for and then accepting interbank offers in a reasonable market size just prior to 11am?"
Let's do an example assuming that there was a functioning inter-bank lending market in 2014 (we could use any year between 2014 and 2018) In 2014 banks were paid 25 basis points to keep excess reserves at the Fed. This is known as Interest on Excess Reserves or IOER. IOER is an overnight rate contract with the most pristine credit in the world, The Federal Reserve. If you were the treasurer at any of the Libor panel banks and you asked another bank where they would lend you $500 million for one month, unsecured, knowing that that bank, (as well as yourself) is earning 25 basis points risk free at the Fed what rate would they come up back to you with? You are asking for funds for 1-month, unsecured from another bank which by the way, will have to put aside some capital because lending of this type is 20% risk-weighted (they would be charged on about $10 million of capital usage). You would imagine it would be north of 25 basis points right? Would you believe that all the panel banks that year used their "expert judgment" and said they would expect to receive funds for one month as well as 3 months less than 25 basis points!
For example, JP Morgan said they were able to borrow from other banks, unsecured for 1 month at 15 basis points. The chart below shows where JPM submitted their 1-month Libor rate (the white line) versus where IOER was (the red line)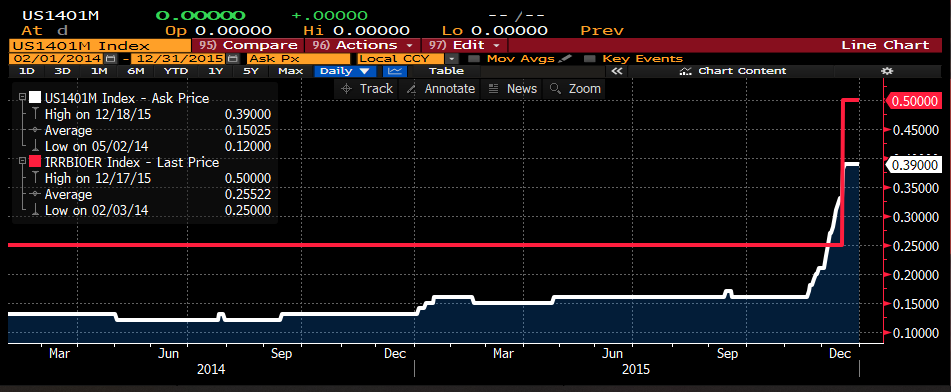 Source: Bloomberg
Does that make any sense to you?
The panel banks have tried to justify these submissions by saying that they were able to borrow funds, unsecured in the Fed Funds, and Commercial Paper markets lower than IOER. While this is true, they were not borrowing from another bank. Regarding Fed Funds, this was mostly Government Sponsored Enterprises (GSEs) like Fannie Mae, Freddie Mac, and Federal Home Loan Banks. GSEs do not have accounts at the Fed to earn IOER. So they handed their excess overnight cash to a bank or a credit union and received what was essentially is a nuisance fee of 10 basis points, give or take a basis point or two. The banks would then put the money in their IOER accounts and earn a spread. However, using Fed Funds is the wrong side of the market! Libor stands for London Interbank OFFERED rate. This activity with the GSEs is the BID side of the market. It is not where the bank can ask for term funds, it is where the bank will pay for funds overnight. Moreover, the Fed Funds activity as well as the Commercial Paper activity was a fraction of the banks' funding. If the banks were using their real expert judgment they would have made an adjustment the Fed Funds they were receiving, moving them to the offered side of the market and adjusting for term premia.
Besides where the panel banks submitted Libor and compared it to IOER, there are also other tests such as
Where the bank's contemporaneous debt was trading

Where the bank's Credit Default Swaps were trading and;

Where risk adjusted term general collateral repo was trading.
When this is done it will be very difficult not to come to the conclusion that the panel banks submitted artificially low Libor rates for years. None of this is rocket science, just some good old-fashioned detective work. Anyone in the market can do it and they will. Therefore, when a spread to SOFR is determined to replace Libor on trillions of dollars of financial instruments, the historical data that will be used (comparing Libor to term-repo) will be artificially low and hence, the spread to SOFR will be too low. Once people realize this all hell will break loose and we will be in Chairman Powell's "Horrible Mess."
John Tuohy is CEO of SWBC Investment Services, LLC, a Broker/Dealer and SWBC Investment Company, an SEC Registered Investment Advisor (RIA). In his role, John is responsible for identifying, developing, and executing the division's strategic plan and all business development, sales, and marketing activities.