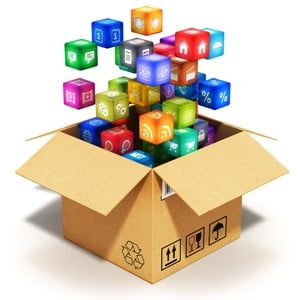 Financial institutions are not immune from having to invest in technology. At some point, in order to remain efficient and serve your customers, you will be forced to adapt to and implement new technology.
Effectively using technology allows you to save time, maximize employee resources, remain competitive, reduce your regulatory burden, and become more efficient and productive. Of course, shopping for and deploying new technology can be an arduous process. There are often multiple vendors that can offer similar capabilities, pricing models, and benefits, and making the right choice for your financial institution, with your unique needs, can take time and a pretty intense due diligence process.
As you're evaluating your technology needs and trying to find software and services to meet your needs and goals, consider the benefits of purchasing software as a package from one vendor, rather than going the "a-la-carte" route.
Many software solutions providers package multiple services together to give users a more robust experience. For example, Microsoft® Office is sold as a suite of products including Word, Excel, PowerPoint, and Outlook, all of the tools that an individual or student needs to get the most out of their home office experience. Sure, you could purchase Word by itself, but the real value comes from the integration of the other products working together. More and more, it's becoming an industry norm for providers to offer software and services in packages or levels so that users have a comprehensive solution, while still meeting their budget.
Some other great examples of software providers that offer package options are:
Salesforce

Akcelerant

Basecamp

Constant Contact
Perhaps you reach out to a vendor to help you solve one problem and find out that they only sell the service as a bundle with other products and solutions—other products and solutions that actually solve additional problems that you just hadn't gotten around to addressing yet. While it may seem like you're "biting off more than you can chew" when you purchase software as a full package, there are numerous benefits:
1. Improved Efficiency
When the individual components of a software platform are built to work hand-in-hand, it's typically because when used together, they improve efficiency and the overall user experience. Let's use Hubspot as an example. Hubspot is an inbound marketing platform that helps businesses to attract, engage, and delight customers. It is sold in one of three packages: Basic, Professional, and Enterprise, each with a unique set of features that integrate to increase a business' efficiency and success when marketing to their prospects and customers online.
The reason that it is bundled is because the different services—email marketing, landing pages, calls to action, blog platforms, social media, search engine optimization, etc.—work together to improve a business' overall online marketing strategy. This is far more efficient than building an email marketing strategy and then having to backtrack to start a blogging strategy months later. And, even if you don't use all of the different tools that are included in the package, at least they are at your fingertips the moment you are ready to use them, rather than having to return to the proverbial drawing board to implement yet another tool.
2. Increased Productivity
Efficiency and productivity often coincide with one another. When you and your team are more efficient with your time and resources, naturally, you become more productive. Our AutoPilot® collections software is packaged together with our payment processing technology. The two services allow collectors to efficiently work through their list of borrowers and easily take payment over the phone without having to navigate to other programs, or worse, manually accept the payment. The two systems packaged together allow collectors to work through their list of delinquent borrowers faster and more efficiently, ultimately improving productivity.
3. Less Employee Training
Anytime you implement new technology, there is going to be training involved—it is inevitable. Since you're likely making a sizable investment, you want to ensure your institution is getting the most out of the technology, and that usually requires in-depth training and access to support tools and staff from the vendor. Purchasing software as a package, from one vendor, has the added benefit of only requiring your staff to learn one system. Fewer systems to learn equals less training, a faster adaptation rate by your employees, and ultimately, increased productivity.
4. Fewer Relationships to Manage
How many vendor relationships do you currently have? It can be time-consuming to oversee and communicate with all of the different vendors required to keep your financial institution running. Software products, in particular, have regular enhancements, updates, and changes, and having a close relationship with vendors and providers ensures that you're notified and kept up-to-date. Having fewer vendor relationships to manage is yet another benefit of purchasing software as a package, rather than individual products from separate vendors.
5. Less Overall Cost
Sometimes the cost of a complete software package can cause quite the sticker shock when it's looked at as a whole, but when you dig deeper and consider the real value, you'll find that it is often less expensive to purchase software as a package rather than individual products. Similar to buying things in bulk, or having a "two-for-one" deal, purchasing software packages can come with significant discounts. Furthermore, when you factor in the reduced implementation costs—remember, you're only implementing one system, at one time—reduced training time, and reduced time managing vendor relationships, it seems like a no brainer.
When the individual components of a software system are integrated, working together to improve your experience as a user and help you reach your ultimate goals, the value of the package can't be denied. As an avid Salesforce user, I can personally attest to the value of having client and prospect data, task tracking, customizable reporting, forecasting, goal setting for my team, and so much more, all in one easy-to-navigate dashboard. Each of the features works together to streamline the entire CRM process, making them far more valuable as a whole, rather than individual services scattered across disparate systems.
If your financial institution is in the market for loan portfolio risk management software, consider AutoPilot. Whether your institution is large or small—needs supplemental back-office support or an end-to-end, fully outsourced risk management and collections solution—we have a software package that is scaled to meet your needs.