Communication is critical to creating a healthy and productive environment—especially in the workplace. Whether you're in management or not, effective communication among coworkers and employees can make or break working relationships. When you create healthy dialogue with coworkers, relationships flourish and employee morale, productivity, and loyalty thrive.
Since we all have different work, personality, and communication styles, workplace personality and communication assessments can be a great tool for learning effective corporate communication skills. In this blog post, we'll discuss the value and uses of personality and communication style assessments in the workplace using one of the most ubiquitous personality style assessments used in professional environments—the DiSC model.
About DiSC
Since the early 20th century, this model has been used in professional settings to deliver personalized insights about work habits, communication preferences, and engagement styles. Today, thousands of companies have their employees take the DiSC assessment to learn how to foster engagement and collaboration in today's ever-changing workplace.
The DiSC model offers a simple way of understanding four basic personality styles: Dominance (D), Influence (i), Steadiness (S), and Conscientiousness (C). Each style has a number of traits that are typically associated with that style.
To find out their DiSC personality style, participants answer a series of questions about their own behavior using a rating scale (I disagree, agree, strongly agree, etc.). There is no "right answer" to the questions, they're merely a way to gauge how much you personally identify with each style.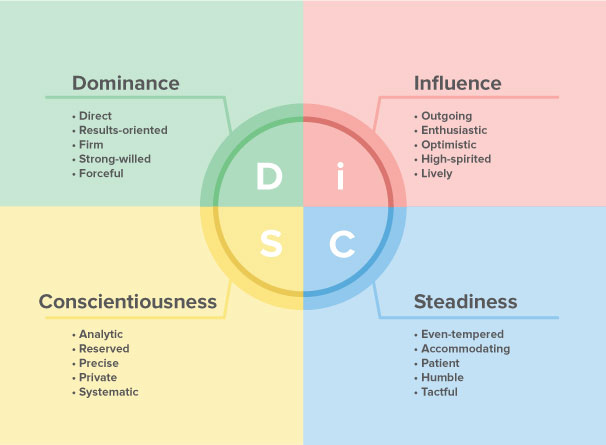 DiSC measures a person's tendencies, preferences, and patterns of behavior. Respondents can then use this information to gain insight into their relational styles, improve workplace communication, and develop deeper interpersonal relationships with their coworkers.
For example, if one of your team members has a D communication style, that person will have a different communication profile than their counterpart who is an S. D's respond best to direct communication and clearly defined goals and boundaries that they should work within. When leading an employee with an S style, you might share with them the impact the assignment will have on others and suggest how they might collaborate on the project.
The DiSC model is popular within the business world, but there are other communication and personality style assessments available for corporate use. It's best for organizations to do their own research and find the type of assessment that works best for them.
The Value of Personality and Communication Style Assessments
Starting out on the right foot
Personality and communication style assessments can help companies optimize their new hires' transition into their new role by using them to help assess how they fit in with their team. Knowing a new team member's personality style can help companies determine how to approach training and further career development in a way that will maximize the experience for that person's individual style, increasing the likelihood of successful retention efforts.
Creating a culture of engagement
Engaged employees are team players, willing to take direction, and passionate about the work they are doing. They feel like they are making a difference or positively impacting their team and company. Teambuilding tools and exercises help employees develop deeper connections that often result in better working relationships. Personality and communication style assessments can be used in teambuilding activities to learn about how different styles interact with each other.
Related Reading: 7 Ways to Create a Culture of Engaged Employees
Motivation Styles
Having motivated employees is a key factor in the success of any business, and communication styles can tell you a lot about what and how to motivate individuals. Once you know, in general, how an employee behaves and reacts, you can adapt the way you deliver direction and support and bring out their strengths.
Let's face it—many of us spend more time at work than at home, so building healthy relationships with coworkers is key. Using assessment tools like DiSC or other communication style assessments to improve your company helps employee performance and contributes to the organization's success.
Listening to and valuing the opinions of all employees creates an inclusive experience where all ideas can be shared. Adapting to other people's communication styles can ultimately lead to gaining insight and information that employees need to perform their jobs better. This means increased efficiencies, higher productivity, and a boost in morale among your staff.
Mandy Smith is Vice President of Training and Employee Development and is responsible for providing SWBC employees with learning and development opportunities which enable them to be more effi cient, eff ective, and engaged. In 2016, she was named a Learning! Champion High Performer by Enterprise Learning! Mandy is a member of the American Society of Training and Development (ASTD) and is active in the local chapter. She currently sits on the Chief Learning Officers Business Intelligence Board.