Many business professionals that I regularly interact with are somewhat perplexed when it comes to LinkedIn. While most people of all age groups understand the basics of social media from a personal perspective—Facebook, Twitter, Instagram—LinkedIn falls into a different category where the lines of what to include in your profile and what type of content to share can become blurred. If you're using LinkedIn to build your professional network, generate leads, or search for career opportunities, there are simple updates you can make to your LinkedIn profile today to help you achieve your goals. Today, I'll cover five enhancements that will help you improve your searchability, describe your expertise, and establish your authority in your business or field of work.
Step One: Update Your Profile Picture
Your profile picture is the first thing people will see when they search your name or land on your profile. Your picture should be a close up of your friendliest face; it should be well lit, focused, recent (i.e. make sure you currently look like your picture), and you should be looking at the camera. Since this is your professional profile, avoid including your spouse, children, pets, friends, etc. in your profile picture.
Your LinkedIn profile picture should not:
Be a selfie

Be a picture of you cropped out of a group photo

Be pixelated, out of focus, poorly lit, or grainy (low resolution)

Be inappropriate

Have more than one person in it
This seems like such common sense advice, but you'd be surprised how many misguided profile pictures are floating around LinkedIn! Take a look at your profile picture, and if it meets any of the above criteria, consider making an update.
Step Two: Update Your Background Image
LinkedIn gives you the ability to add a background image to your professional profile. Background images are simply another way to add personality to your profile, bolster your brand, and help you stand out from the crowd. LinkedIn background images are a little tricky because they need to be sized appropriately to fit the space on your profile. Since a large portion of the background image is covered by your profile picture, name, headline, and top portion of your profile, the background image you choose has to be carefully selected so that you can still decipher what the image is even with a portion of it covered. Fortunately, there are several resources available online for those of us who are "design-challenged." Some of my favorites include The Muse, LinkedIn, and Canva.
Step Three: Customize Your Professional Headline
Your professional headline is the text right below your name on your profile.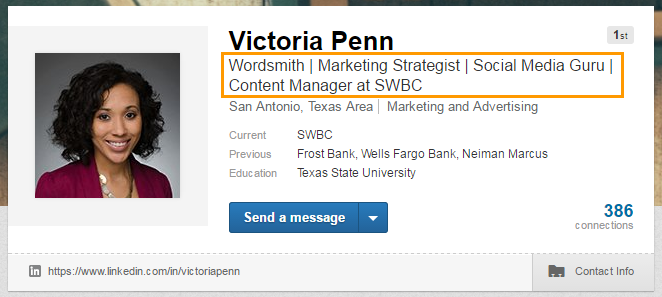 LinkedIn automatically defaults the headline to your current job title.Most professionals leave their default job title in this space, but this is a prime space to tell prospects exactly what you do and how you can help them. Titles like 'Consultant' or 'Assistant Vice President' can be vague and leave people wondering exactly what it is you do. So, how do you write a good headline? Be specific about what you do, while making it compelling enough that people want to keep reading your profile and connect with you to learn more. And, don't be afraid to add some personality. For example, I'm a Content Manager, but I do a lot more than that. I'm also a writer, a social media specialist, and I specialize in digital marketing strategies.
Step Four: Update Your Contact Information
Adding your contact information to your LinkedIn profile gives prospects, recruiters, and connections additional avenues to contact you. From your profile, click on the 'Contact info' link, where you'll have the option to add additional contact information including your preferred contact email address, your phone number, your address, your Twitter handle, and your websites.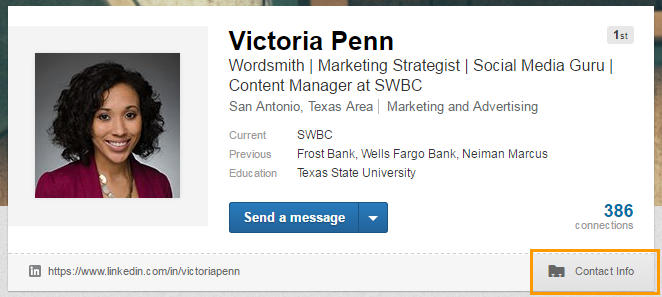 If you're not comfortable adding your personal information, this is a great place to add your business contact information, social media profiles, and websites.
Step Five: Create a Custom URL
When you initially create your LinkedIn profile, LinkedIn automatically creates a URL specific to your profile. It typically includes some form of your name along with a random collection of numbers and letters. However, it's quick and easy to create a custom URL, specific to your name, that will increase your chances of showing up as a top result both in Google and in LInkedIn. From your profile, hover your mouse over your current URL and a small gear will appear. Click on the gear, and you'll be routed to a Public Profile page.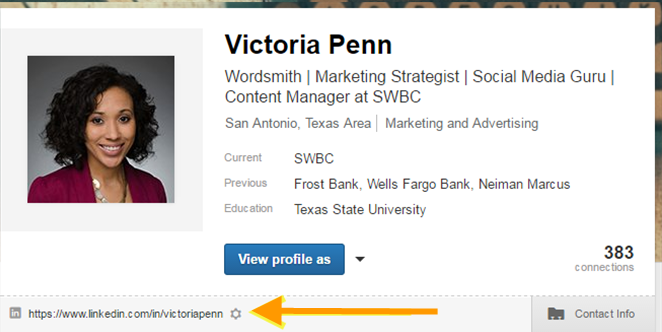 On the top right-hand side of this page, there will be a "Your Public Profile" heading with a short description about updating your URL along with your existing URL. Click on the small blue crayon and you'll have the option to update the last part of your URL. Custom URLs are given on a first-come, first-serve basis, so if you have a common name, you may have to get creative by including your maiden name, middle name, or brand/business name. Your custom URL can have 5-30 letters and numbers and cannot include spaces or special characters.
LinkedIn can be a powerful tool when leveraged to its fullest capabilities. As of August 2016, there were 450 million users on LinkedIn, making it the world's largest professional network, and their long-term goal is to reach 3 billion profiles. The potential for lead generation, finding your next career opportunity, recruiting, deepening existing relationships, etc. is vast. Invest the time to keep your profile up-to-date and consistently share fresh content and you and your business could reap the benefits of a strong social media presence.
Victoria Penn is the AVP of Marketing for SWBC. She manages a team of marketers that develop traditional and digital marketing strategies. She also leads the Content Marketing Strategy for SWBC.